Medical Malpractice by Employee Likely in Hospital Hepatitis C Outbreak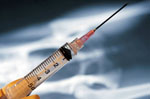 Exeter Hospital in New Hampshire is facing allegations of medical malpractice after 19 patients and one employee have tested positive for hepatitis C. New Hampshire public health officials suspect the cause is an employee who stole sterile syringes from a hospital lab, then replaced them with used water-filled ones.
So far, the events have led to extensive testing of 700 patients, and the testing continues. Patients from as far back as Oct. 1, 2010 have been called in for testing. Hepatitis C can take one to six months to appear in blood test. Because of this, many patients have been contacted for retesting.
Hepatitis C is the most common chronic bloodborne infection in the country, according to the Centers for Disease Control and Prevention (CDC). It often does not show immediate symptoms, but 60 to 70 percent of patients contract chronic liver disease and many suffer liver cancer. Some 3.2 million Americans live with chronic hepatitis infections.
The most common cause of hepatitis C is blood transmission, largely through sharing contaminated needles or other equipment to inject drugs, according to the CDC. From 2008 to 2011, the U.S. saw 13 hepatitis C outbreaks related to health care. There were 102 outbreak-associated cases and more than 80,000 people were notified for screening.
Exeter Hospital reported the outbreak to the state on May 15. It closed its cardiac catheterization lab from May 25 to June 5, when the state determined there was no contaminated equipment. The state Attorney General's Office has launched an investigation.
Some of the patients who have contracted the hepatitis C have retained legal counsel. In New Hampshire, an employer can be held responsible for negligent and careless acts of an employees.
Related:
Timeline of the Hepatitis C outbreak at Exeter Hospital, Union Leader
Officials Suspect Hospital Worker in Hepatitis Outbreak, Boston Globe
Hepatitis C, Centers for Disease Control

The Boston medical malpractice lawyers at Breakstone, White & Gluck have over 80 years combined legal experience. We have long been recognized as leaders in Massachusetts in the field of medical malpractice because of our thorough investigation, aggressive representation, and innovative trial techniques.
For a free legal consultation, contact us today toll-free at 800-379-1244 or 617-723-7676 or use our contact form.