Put Down the Cell Phone, No Walking While Distracted!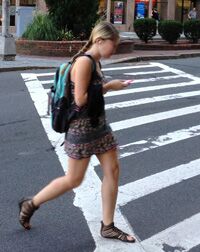 Do you talk on your cell phone or read e-mails while walking? Many of us do. This practice – often called walking while distracted – can cause serious injuries to you and others around you.
There is good reason to think about pedestrian safety. After years of decreases, overall pedestrian traffic deaths have been on the rise in the U.S. In 2011, 4,432 pedestrians were killed in motor vehicle accidents, an 8 percent increase from 2009, according to the National Highway Traffic Safety Administration (NHTSA).
That same year, 1,152 people were treated in hospital emergency rooms for injuries from walking and using a cell phone or electronic device, according to the Consumer Product Safety Commission (CPSC).
Boston-based Liberty Mutual Insurance Company recently published a Pedestrian Safety Survey of over 1,000 adults. It reported 55 percent of respondents consider texting or e-mailing while crossing the street to be the most dangerous activity while walking.
This was even more than those who feel running across a street to beat oncoming traffic was most dangerous! Still, 60 percent of pedestrians reported texting, e-mailing or engaging in other behaviors while they walked, even though 70 percent considered the behavior dangerous.
Young people account for many of the distracted walkers. Safe Kids Worldwide, a non-profit organization, recently reported that it observed 34,000 children crossing the street near U.S. schools. One in five high school students and one in eight middle school students was distracted by a cell phone or electronic device.
A few tips for staying safe:
Put your cell phone away. Whenever you walk in a public area, put your phone in a bag or your briefcase. This includes supermarket parking lots, walking down the street on a sidewalk or waiting out at the bus stop with your child.
Don't let the music distract you! Keep the volume low enough to hear traffic and other sounds around you. Do not adjust settings when crossing the street.
Step aside. It is best not to use your cell phone at all. But if you do, step away from the street and other pedestrians.
Crosswalks. Cars should stop at crosswalks for pedestrians, but do not take this for granted. Try and make eye contact with drivers before crossing the street and never pull out your cell phone while standing and waiting to use a crosswalk.
Never use a cell phone while crossing the street. This may sound obvious: Do not step into the street while you are reading or entering data or talking on your cell phone.
Watch out for bicycles. Cyclists can pass traffic on the right hand side and may be moving alongside traffic that has stopped. Be careful when stepping into the street.
Watch for other pedestrians. Realize that other people are probably going to be walking while using their cell phone and you have to anticipate them.
Related:
Put that phone down and just walk, The Boston Globe.
About Breakstone, White & Gluck
The Boston pedestrian accident lawyers at Breakstone, White & Gluck have over 100 years combined experience representing pedestrians injured in motor vehicle accidents. If you have been injured or a loved one has suffered a wrongful death, it is important to learn your rights. For a free legal consultation, contact us at 800-379-1244 or 617-723-7676 or use our contact form.