Boston Mayor Proposes New Truck Safety Ordinance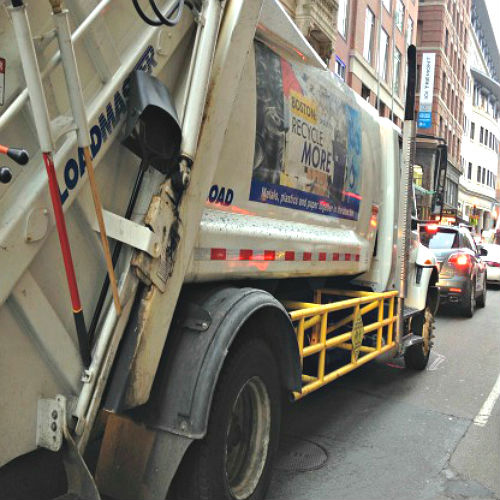 Mayor Marty Walsh is proposing a new safety ordinance for city-contracted trucks in Boston, a measure being widely watched after several cyclists have died in truck crashes. It is believed to be the first such ordinance in the nation.
Walsh, who took office in January, submitted an Ordinance to Protect Vulnerable Road Users to the Boston City Council earlier this week. The City Council was expected to take it up today in session.
If passed, the ordinance will require side guards, convex mirrors, cross-over mirrors, and blind-spot awareness decals on all vehicles over 10,000 pounds which are contracted with the city. The goal is to prevent truck accidents by giving drivers a better view around them. When trucks do not comply, fines start at $100 for the first offense and contracts can ultimately be terminated.
The Boston Cyclists Union called for these measures after a cyclist was killed in a Charlestown truck accident in April. It has released a fact sheet, "Safeguards Saves Lives." According to the fact sheet, 4 percent of vehicles in the U.S. are trucks though they cause 11 percent of all bicyclist fatalities and 7 percent of all pedestrian fatalities.
Since 2010, 11 cyclists in Boston have died as a result of motor vehicle crashes, according to figures cited by Boston Magazine. Seven cases involved trucks. Here is another concerning figure: From 2009 to 2012, there were 1,700 confirmed cyclist incidents documented by Boston EMS emergency medical technicians and paramedics.
The City of Boston has been working on truck safety. Last year, the city began a pilot program, the largest in the nation. The Mayor's Office of New Urban Mechanics and the city's Public Works Department tested three different types of guards on 16 active vehicles driving the streets.
In April, the National Traffic Safety Board made similar recommendations to prevent tractor-trailer accidents.
About Breakstone, White & Gluck
The Boston personal injury lawyers at Breakstone, White & Gluck have over 100 years combined experience representing injured cyclists and pedestrians. We support efforts to make the roads of Boston safer and donate bike helmets for children each year, in Boston as well as Cambridge and Somerville and other communities. For a free legal consultation, visit 800-379-1244 or 617-723-7676 or use our contact form.