Bicycle Accidents Can Be Prevented If Everybody Follows the Law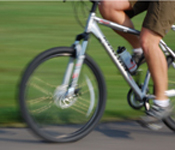 Bicyclists have returned to the road in large numbers as Boston enjoys an unseasonably warm March. It is an optimal time for drivers to make sure they understand a bicyclist's rights in Massachusetts and remind themselves to be vigilant when sharing the roadway. And for bicyclists, it is a good time to review the rules of the road. 
As drivers, we often watch out for other cars, but fail to do the same for pedestrians, motorcycles or bicyclists. In some bike accidents, drivers do not even see a bicyclist until just before the collision, and sometimes not at all. Other times, we may not understand the laws or are not focused on the road.
What drivers should know about a cyclist's rights in Massachusetts:
Bicyclists are allowed to travel on the same roads as drivers (unless the road is a limited access highway) and must follow the same laws.
Cyclists should generally ride on the right side of the road, but may use the full lane or the left lane when turning to the left, and cyclist may travel two abreast in the lane. They should not impede traffic.
Many communities, such as Boston, Cambridge and Somerville, offer bike lanes or Shared Lane Markings (also known as Sharrows). Bicyclists are encouraged, but not required to use them.
When drivers are turning left, they must yield right of way to any bicyclist.
Cyclists are allowed to pass traffic on the right. Left turning motorists should be particularly aware at intersections where cyclists passing traffic on the right may be hidden from view.
It is against the law for individuals to open a car door and interfere with the travel of a bicyclist. Drivers and passengers should turn and check for bicycle traffic before opening doors.
Divers can only pass a cyclist if there is sufficient room. It is illegal to cut bicyclists off after passing. The driver must wait until there is enough room to move back into the lane to avoid causing a bike accident.
Of course, bicyclists must also follow the rules of the road. There are some laws that apply to bicyclists only. For example:
Cyclists are required to use hand signals to indicate their intention to turn, except when doing so may cause a bicycle accident (for example, when both hands are needed for braking).
Cyclists have to stop at red lights and stop signs. They cannot ride the wrong way on one-way streets. Bicyclists should ride in the same direction as traffic in their lane.
Bicycles should be equipped with reflectors and a warning device, such as a bell, and if ridden after dusk or before dawn, must be equipped with appropriate lighting. 
Bicycles cannot be ridden on the sidewalk in a business district. Towns may have additional ordinances about where bicycles can and cannot be ridden.
Cooperation and common sense go a long way to preventing
bicycle accidents
. Cyclists should make themselves visible with bright, reflective clothing. Motorists should take the time to take a second look.
Drivers and cyclists who have more questions can access information about Massachusetts bicycling laws and safety from MassBike. The Boston-based advocacy organization supports the development of bike-friendly infrastructure throughout the state and offers cycling education and safety programs.
Related:
Facts About Cycling in Massachusetts
If You Have Been Injured in a Bicycle Accident
The Boston bike accident lawyers at Breakstone, White & Gluck have over 80 years combined experience representing individuals injured in cycling accidents. We have handled bike accident cases in Boston, Cambridge, Somerville and throughout Massachusetts. If you have been injured in a bike accident, it is important to learn your rights. For a free legal consultation, contact our bike accident attorneys at 800-379-1244, 617-723-7676 or use our contact form.