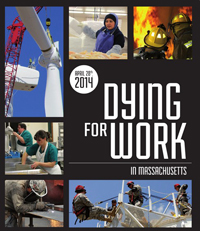 A new report shares hard numbers for Massachusetts workers. In 2013, 50,000 workers were seriously injured on the job and 48 others were killed in workplace accidents. An estimated 480 workers also died from occupational disease, such as cancer from workplace exposure to hazardous materials.
The 2014 "Dying for Work in Massachusetts" report has been released by the Massachusetts Coalition for Occupational Safety and Health (MassCOSH) and the Massachusetts AFL-CIO, which organize the annual Workers' Safety Memorial Day. On April 28, workers, families of victims, advocates and state officials gathered at the Massachusetts State House for the 26th annual observance.
48 Workers Killed in 2013. The construction industry remains one of the most dangerous, with 11 workers killed in construction accidents in 2013. Workplace falls killed nine workers, causing one-fifth of all occupational fatalities in Massachusetts. Nine other Massachusetts workers were killed by machines and equipment. Workplace violence took the lives of five more workers, including a teacher, a police officer, a livery driver and two store workers.