Posts Tagged '"workplace accidents"'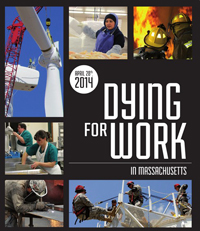 A new report shares hard numbers for Massachusetts workers. In 2013, 50,000 workers were seriously injured on the job and 48 others were killed in workplace accidents. An estimated 480 workers also died from occupational disease, such as cancer from workplace exposure to hazardous materials.
The 2014 "Dying for Work in Massachusetts" report has been released by the Massachusetts Coalition for Occupational Safety and Health (MassCOSH) and the Massachusetts AFL-CIO, which organize the annual Workers' Safety Memorial Day. On April 28, workers, families of victims, advocates and state officials gathered at the Massachusetts State House for the 26th annual observance.
48 Workers Killed in 2013. The construction industry remains one of the most dangerous, with 11 workers killed in construction accidents in 2013. Workplace falls killed nine workers, causing one-fifth of all occupational fatalities in Massachusetts. Nine other Massachusetts workers were killed by machines and equipment. Workplace violence took the lives of five more workers, including a teacher, a police officer, a livery driver and two store workers.
Commercial fishing accidents killed two fishermen. MassCOSH considers this to be the most dangerous single occupation in Massachusetts. Since 2000, 60 people have died in this work.
The figure also includes nine firefighters who were killed by work-related cancers and heart disease and three servicemen who died in the War in Afghanistan.
Occupational Disease. MassCOSH reports on occupational disease which can develop after an employee is exposed to hazardous materials and dangerous dust. Because symptoms do not immediately present, some conditions are left untreated. Statewide, 480 workers died from occupational disease last year, while another 1,800 were diagnosed with cancers for the first time.
Immigrant Workers. More immigrants died at work last year. In 2012, nine percent of on-the-job deaths were immigrants. In 2013, this figure increased to 19 percent – or nine workers. MassCOSH reports the state's immigrant workers come from all over the world, including Sir Lanka, El Salvador, India, Angola, Vietnam, Ireland, Cape Verde and Algeria.
Older Workers Face Greater Risk. Workers over age 40 were also at greater risk. The average age of workers who died was 49. The majority – 56 percent – were age 50 or older. Workers over age 60 accounted for 17 percent workplace deaths and construction accident deaths.
OSHA Would Need 123 Years to Fully Investigate in Massachusetts. MassCOSH says OSHA lacks proper funding to investigate and with current resources, would need over 123 years to investigate every Massachusetts workplace under its jurisdiction.
Fines Are Too Small. MassCOSH says fines do little to deter companies from taking safety risks. In 2013, OSHA investigated the deaths of four workers in Massachusetts. All but one settled for $10,000 or less, with an average fine of $6,577.
Related Resources
To learn more, read the MassCOSH annual report, "Dying for Work in Massachusetts: The Loss of Life and Limb in Massachusetts Workplaces." Page 9 is an "In Memoriam" tribute to the workers who died in 2013.
About Breakstone, White & Gluck
The Boston injury lawyers at Breakstone, White & Gluck support MassCOSH in its work to strengthen laws for worker safety. Our attorneys have over 100 years combined experience representing injured individuals in Massachusetts, including those who have been seriously injured or killed in construction accidents. If you or a loved one have been injured, it is important to learn your rights. For a free legal consultation, contact us at 800-379-1277 or 617-723-7676 or use our contact form.