Posts Tagged '"Papadopoulos v. Target Corporation"'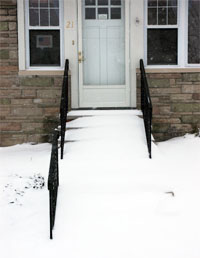 With snow in the forecast, now is the time to dig out your shovel. Clearing snow from your property has always been the right thing to do, but it is now also a requirement under Massachusetts law.
With the case of Papadopoulos v. Target Corporation, in July 2010 the Supreme Judicial Court abolished the long-standing legal distinction between natural and unnatural accumulations of snow and ice. Property owners are now required to clear both types of snow fall and may be held liable if there is a snow and ice injury on their property.
Here are a few tips from our Boston personal injury lawyers:
Remember to salt. Salt your driveway early in the storm and regularly.
Know how to use your snow blower. Turn it on before the snow fall and read the instructions. In between storms, keep it covered or in a garage.
Remember everyone who travels. You are responsible for clearing driveways, paths and all areas which can be reasonably accessed by invited guests as well as passersby and mail carriers.
Watch for tree branches. If tree branches fall on your property during the snow, consider making cuts before the next storm so no one is hurt.
Hire a snow plow. During heavy snow storms, consider hiring a snow plow.
Clear areas for emergency professionals. Help dig out fire hydrants and storm drains in your neighborhood.
Call about downed wires immediately. If you come across a downed power line, call your police department and ask them to call the utility company. Never attempt to clear the snow around it.
Stay off the streets. In the early hours of a snow storm, pedestrians can interfere with municipal plows.
Read More