Posts Tagged '"Marc L. Breakstone"'
Attorney Marc L. Breakstone helped deliver new bicycle helmets to Arlington fifth graders this week. He asked them to make a promise: to ride safely and always wear their helmets when riding to prevent head injuries.
"Now I'm not here to scare you. I'm here to inspire you, okay? … I want you all to be safe bicyclists," Breakstone said.
[youtube https://www.youtube.com/watch?v=12SVi3PtvOU]
The bicycle helmets were a surprise gift for the 50 students at Pierce Elementary School's bike safety training. MassBike, Massachusetts Safe Routes to School and the Arlington Police Department participated.
During his talk, Attorney Breakstone spoke to the students about the impact of concussions and his experience as a personal injury lawyer who has represented cyclists who have suffered head injuries.
"A concussion can affect you for your entire life," he said.
Tom Francis, of MassBike, also urged students to wear their new helmets. "If it's in your garage or hanging on the wall, your helmet is not doing any good. It has be to on your head."
Francis covered a number of safety topics, including riding on sidewalks near pedestrians, hand signals and developing a routine.
"Be predictable when you ride your bike," he said.
Since 2013, Breakstone, White & Gluck's Project KidSafe campaign has donated more than 20,000 bicycle helmets to children in eastern Massachusetts. We kicked off the 6th year of our safety campaign in Arlington this week. It was our fifth year supporting Pierce Elementary School, where there are no school buses. Students walk, ride bicycles or are driven by their parents.
Through Project KidSafe, we are committed to helping children and families put on bicycle helmets. From our experience as attorneys and cyclists, we know helmets are critical to preventing concussions, traumatic brain injuries and deaths. We want to prevent injuries. For the next few months, we will be working with community partners throughout the Boston area to donate bicycle helmets and educate families about bicycle safety. Each helmet meets safety standards set by the Consumer Product Safety Commission and will be fitted by one of our attorneys or community partners.
Read about the donation in The Arlington Advocate.
About Breakstone, White & Gluck
At Breakstone, White & Gluck, our Boston personal injury lawyers fight for justice for those who have been seriously injured or killed by the negligence and wrongdoing of others. Please visit our website to learn more about our Project KidSafe campaign and our attorneys, Marc L. Breakstone, David W. White, Ronald E. Gluck and Reza Breakstone.
Photos, left to right: Mary Alice Vallarino, parent and event organizer, Attorney Marc L. Breakstone, Tom Francis of Mass Bike, Nicole Edmonds of Massachusetts Safe Routes to School and Macon Lockery, of The Bike Stop in Arlington.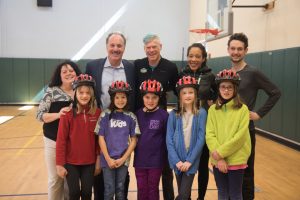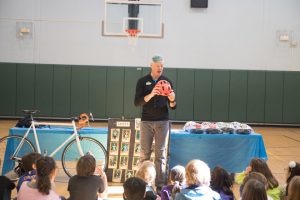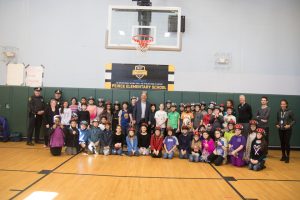 Boston Medical Malpractice Attorney Marc L. Breakstone Comments on His Experience with Medical Record Cover-Ups in His Record-Breaking Recoveries

BOSTON – (February 9, 2012) – Boston medical malpractice attorney Marc L. Breakstone said today, "The Mongan Institute for Health Policy Survey concerning doctors' adherence to medical standards confirms what we have learned through years of litigation experience: Doctors often conceal their errors to avoid the consequences of their mistakes."
Mr. Breakstone, who has recovered two of the largest medical negligence awards for individuals in Massachusetts history ($10.2 million and $7.5 million), said that he has seen numerous cases in which doctors have altered medical records or created false medical records to "cover their tracks." In these two cases, it was shown that physicians, nurses, EMTs and others had either altered, destroyed or recreated falsified records.
These bogus records were revealed after years of investigation and intensive discovery efforts. Mr. Breakstone pointed out that "these falsified records appeared genuine to the patients' families. It was not until we dug up original pre-altered records that the cover-ups were revealed." Mr. Breakstone lamented that the falsification of medical records is rarely disclosed. Without the civil justice system, "most wrong-doing would go unnoticed and unpunished," he said. He also said that it is rare for a physician to admit they had made an error, big or small.
Mr. Breakstone added that it is important for patients to learn as much as they can about their medical procedures and conditions so they can ask hard questions if matters become complicated. "Patients have a right to review their records at any time, even while in the hospital, and this is one way to make sure mistakes are not buried."
Mr. Breakstone is available for further comment on the Mongan Institute Report as well as other patient safety issues. For more information, call 978-284-3401 or 617-723-7676.
Click here to read: Doctors Admit They Lie to Patients and Hide Mistakes, Survey Reveals, The Boston Globe, Feb. 9, 2012.
Read More