Posts Tagged 'Boston bicycle dooring lawyers'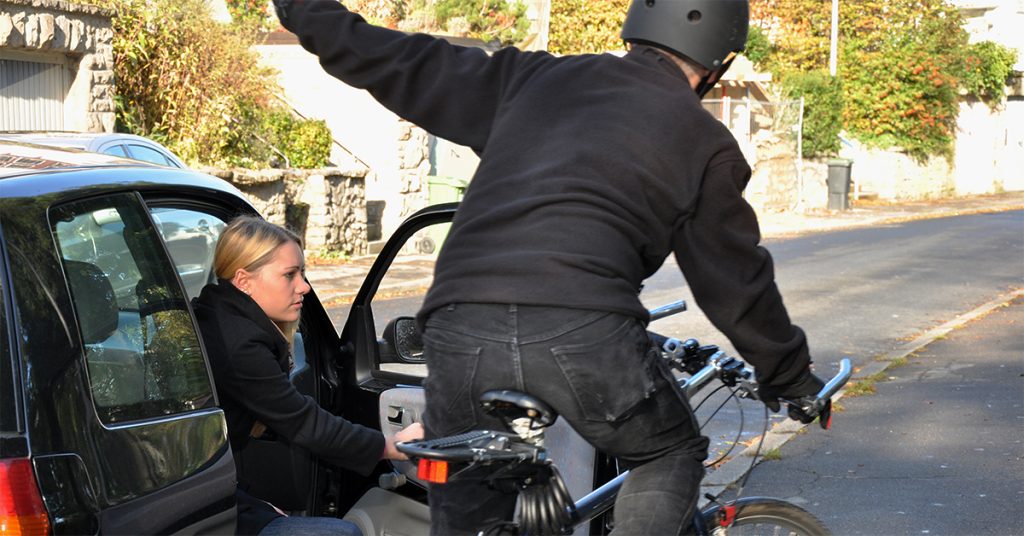 As April begins, so come more cyclists on the road. Drivers should consider each cyclist a reminder to use the Dutch Reach method and never open your car door without checking. You can cause serious and even fatal injuries to a cyclist. In Massachusetts, you may also be held financially responsible for the tragedy that follows.
At Breakstone, White & Gluck, our lawyers have represented many cyclists injured by dooring accidents and other bicycle collisions in Boston, Cambridge and across the state. We urge drivers to take a few minutes to learn about the Dutch Reach method to prevent injuries.
Lack of awareness causes many injuries. Many drivers park and open their car door automatically, heedless of its risk to passing cyclists or to themselves (or door!) even as the number of cyclists sharing our roads increases by the year. In Boston alone, the city's bike counting program tracked nearly 40,000 bike trips each day in 2017. During 2019, the concern spreads beyond cyclists as dockless scooters arrive in the Boston area.
What is the Dutch Reach?
Dooring accidents happen after drivers park and exit their vehicles without checking. The Dutch Reach method attempts to slow the process down and give drivers more time to see cyclists and anticipate potential accidents.
The approach calls on drivers to park and then check their rear-view and side-view mirrors. If there are no cyclists or pedestrians nearby, drivers can turn to open the door with their far hand. In the process, they should get a good look at the road behind them. Both drivers and passengers are advised to follow this approach. By doing so, drivers can limit the risk for injuries to cyclists as well as pedestrians.
Watch this video to learn about the Dutch Reach method. The demonstration begins around the 1 minute mark.
https://youtu.be/ppBuWxvypfg
The Dutch Reach method originated in the Netherlands. But Michael Charney, a Cambridge doctor, began campaigning for awareness in Massachusetts in 2016, after the devastating bicycle crash which killed Amanda Phillips in Cambridge's Inman Square. The 27-year-old was hit by two vehicles, first an open door.
As a result of this campaign, Massachusetts updated its state driver's manual in 2017, adding instructions for the Dutch Reach method. Dooring has been against the law in Massachusetts since 2009. You can be cited and fined up to $100 per offense for interfering with other traffic, including a pedestrian or cyclist. You can also face a civil claim from the victim seeking financial damages. For years, drivers and cyclists have learned the dangers of dooring crashes after a collision; but adding the Dutch Reach instructions to the Massachusetts driver's manual now provides clear and concise instructions for how to prevent these crashes.
Following success in Massachusetts, Charney's campaign has continued, resulting in two other states, Washington and Illinois, adding the Dutch Reach to the state driver's manual.
Safety Reminders for Traveling Near Cyclists
Expect cyclists on the road. Many cyclists will travel in the bike lane or to the right of traffic, but remember that cyclists have the legal right to operate in the traffic lane when they need.
Slow down. When you travel fast, you have less time to respond.
Follow cyclists at a safe distance. Cyclists should have at least three feet of space when you pass them.
The further back you travel, the wider your field of vision.
Remember that cyclists may need to leave the bike lane. You need to make sure you can respond if they do.
Expect someone may stop unexpectedly, such as a delivery truck or an Uber or Lyft vehicle picking up a passenger.
Be careful not to startle a cyclist. Never honk.
Approach crosswalks and traffic signals with caution. Cyclists are supposed to stop, but expect there may be times they can't due to traffic conditions.
Use your mirrors. Check for cyclists behind you and next to you, especially before turning or parking.
Finally, again, be careful when parking. Use the Dutch Reach method. Be cautious when parking in unfamiliar streets and avoid parking near traffic signals and crosswalks.
About Breakstone, White & Gluck
The Boston personal injury lawyers at Breakstone, White & Gluck represent cyclists who have been injured by the negligence of drivers. We also work to prevent bicycle accidents and improve safety through our sponsorship of bicycle clubs in the Boston area and our Project KidSafe campaign, which has donated more than 25,000 bicycle helmets to children across Massachusetts.
If you have been injured, Breakstone, White & Gluck offers a free legal consultation. Learn more about our attorneys.