Posts Tagged '"baby formula"'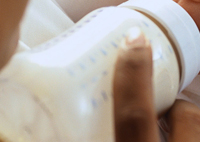 Walmart pulled Enfamil baby formula from more than 3,000 stores this week after a newborn's death in Missouri.
Walmart voluntarily removed the cans of Enfamil Newborn from its store shelves on Monday night. The baby formula is under investigation by health officials after the 10-day-old baby boy's death Sunday from Cronobacter, a bacteria linked to newborn illness and milk-based powder baby formula. The formula had been used by the baby's family. A second infant was infected by the bacteria, but recovered.
The 12.5-ounce cans of Enfamil Newborn are marked with the lot number ZPIK7G. This includes at the chain's 35 stores, 12 super centers and 2 Sam's Club locations in Massachusetts.
The formula has been sent for testing to the U.S. Centers for Disease Control and Prevention (CDC) and the Food and Drug Administration (FDA). In the meantime, the Missouri Department of Heath and Senior Services is urging consumers who purchased the formula to return it to the store or discard it.
The manufacturer Mead Johnson said that the batch of infant formula used by the child's family tested negative for Cronobacter when it was produced and packaged.
Mead Johnson and Walmart representatives say the companies are working with authorities. Neither of the companies has implemented a formal product recall. The government has not requested one.
Click here to read a recent news article about this product liability case.
Read More