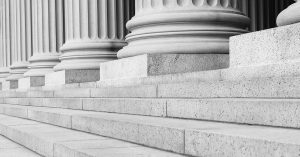 For decades, the Massachusetts courts have adhered to the "transitory water doctrine." Simply put, under this common law standard, Massachusetts property owners have generally been shielded from liability in slip and fall cases when an injury results from normal use in wet weather. For example, a customer who wears boots in the snow and tracks water into a store, causing another customer to slip.
Established more than 40 years ago, the transitory water doctrine has set the legal standard for property owners. With no incentive to avoid liability, large commercial property owners were virtually free from worries about injuries caused by water tracked in from outside. Make no mistake: many people have been badly hurt right after crossing the threshold of a store, where the water and grime are most concentrated.
But this may change, after a recent ruling by Superior Court Judge Cornelius J. Moriarty II.