Motorcycle Accidents Are Top Concern During Motorcycle Safety Awareness Month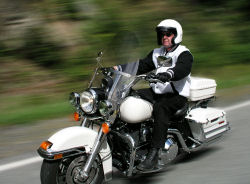 May has arrived and as motorcycling season begins, the National Highway Traffic Safety Administration (NHTSA) is observing Motorcycle Safety Awareness Month.
The national initiative aims to encourage drivers and motorcyclists to "share the road" and highlights that motorcycles are vehicles with the same rights and privileges as any other motor vehicle on the road.
This is an important point because most motorcycle accidents involve passenger vehicles and trucks. Many motorcycle accidents result from a lack of understanding and awareness on the part of both or either party. Many times, drivers will say they fail to see motorcyclists until just before an accident.
In 2009, motorcyclists were 25 times more likely than passenger vehicle occupants to die in a crash, according to the NHTSA. Motorcyclists were five times more likely to be injured based on miles traveled.
But motorcyclists can take a number of safety steps to protect themselves on the road. The Boston motorcycle accident lawyers at Breakstone, White & Gluck share a few motorcycle safety tips:
Wear a Helmet. Wearing a helmet is the best way to protect yourself from serious head injury. An unhelmeted motorcyclist is 40 percent more likely to suffer a fatal head injury in a motorcycle crash than one wearing a helmet, according to the NHTSA. Massachusetts is one of 19 states which require all motorcyclists to wear helmets. State law also requires all scooter and "low-power" riders to wear helmets.
Select a full-face helmet for the best protection. An open-faced helmet provides the next highest level of safety.
To select the right helmet, look for one which meets Department of Transportation (DOT) standards. All adult helmets are required to meet this standard and it will be clearly labeled on the helmet. The Snell Memorial Foundation is another well-respected testing organization to seek out, but helmet manufacturers are not required to meet its standards.
Take a Safety Class. Take an annual class on motorcycling safety to learn important techniques such as splitting lanes and how to handle road conditions such as uneven pavement and railroad tracks.
Wear Brightly Colored Clothing. Your goal is to make yourself as visible as possible to drivers during the day as well as night. Consider bright colors for your clothing and helmet.
Look in the Car's Side View Mirrors. On the road, your best position is to be able to see the driver's eyes in the side view mirror. If you cannot, you are in the vehicle's blind spot, meaning the driver cannot see you in the mirror when he makes a driving decision.
Splitting Lanes. This is when a motorcycle moves in between two vehicles in separate lanes. Make sure you have the experience to make this move and make sure drivers around you are alert.
Avoid Riding in Inclement Weather. The risk for injuries increase in the rain and other bad weather conditions.
Related:
Motorcycles, National Highway Traffic Safety Administration
7 Tips for Motorcycle Safety, Massachusetts Department of Transportation
Motorcycle and Bicycle Helmet Use Laws, Insurance Institute for Highway Safety
Motorcycle Safety Awareness Month Reminds Drivers, Riders to Share the Road, Consumer Reports
The Boston motorcycle accident lawyers at Breakstone, White & Gluck have over 80 years combined experience handling motor vehicle and motorcycle accident cases in Massachusetts. If you have been injured, it is important to learn your legal rights. For a free legal consultation, contact us today at 800-379-1244 or 617-723-7676 or use our contact form.