Workplace Accidents Killed 58 Massachusetts Workers in 2011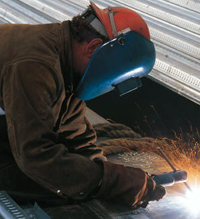 Fifty eight workers lost their lives on the job last year in Massachusetts. The average fine in closed investigations into those deaths was less than $7,000.
The Massachusetts Coalition for Occupational Safety and Health (MassCOSH) released the figure in its annual report at Workers' Memorial Day on April 28. In "Dying for Work in Massachusetts," the group reported firefighters and construction workers again account for the majority of workplace deaths in Massachusetts. The group called for reforms such as strengthening OSHA regulations to prevent construction accidents and passing new state laws to protect temporary workers.
"It is deplorable that so many workers still die or are severely injured in workplace accidents," said Boston personal injury lawyer David White of Breakstone, White & Gluck. "Employers must be held accountable when they fail to follow safety requirements and cause injuries or deaths."
Breakstone, White & Gluck is a proud sponsor of MassCOSH, an organization with a great reputation for protecting workers and improving workplace safety.
In 2011 in Massachusetts, the average fine in the death of a worker was $6,490. MassCOSH said this low cost encourages employers to disregard OSHA regulations.
The group noted there is no consistent trend in the number of worker deaths. But in 2011, the number of workers lives' lost rose 11, up from 47 in 2010.
Thirteen firefighters died in 2011, two as the result of injuries sustained while responding to fires. Another firefighter was crushed while performing routine vehicle maintenance. Ten others died due to work-related cancer and heart disease.
Construction accidents accounted for eight wrongful deaths. Deaths were also reported in the human services and commercial fishing industries.
MassCOSH reports workers are dying in four ways: motor vehicle accidents and incidents; construction falls; workplace violence and drowning. Falls from ladders, roofs and trees accounted for 20 percent of all workplace deaths. Construction accidents were involved in 14 percent of workplace deaths, including three men who were killed in electrocutions and explosions.
MassCOSH Reforms
The advocacy organization for workers' rights is calling on state and federal lawmakers to make a number of changes. These include:
Proposed Changes at the Federal Level:
Strengthen OSHA regulations, with one measure including criminal prosecution.
Overhaul OSHA's system for regulating toxic chemicals.
Better protect immigrant workers by increasing the number of bilingual investigators.
Improve whistleblower protections.
Proposed Changes at the State Level:
Full implementation of Executive Order 511, so all state agencies have committees which ensure national health and safety standards are being met.
Make improvements to Massachusetts workers' compensation laws so coverage is provided to all injured workers.
Pass the "Temporary Worker Right to Know Law," which would increase state oversight and ensure that temporary workers are provided written notice of job assignments, supervisors, wages and other key details.

The Boston construction accident lawyers have over 80 years combined experience in workplace and construction accidents. We are a proud supporter of MassCOSH. If you have been injured in an accident, it is important to learn your legal rights. For a free legal consultation, contact us today at 800-379-1244 or 617-723-7676 or use our contact form.