Dangerous Magnet Toys Recalled by Major Retailers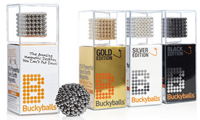 The Consumer Product Safety Commission (CPSC) has moved a step closer to taking two dangerous magnet toys out of the hands of children.
On April 12, six retailers voluntarily recalled Buckyballs and Buckycubes. The stores included Barnes & Noble, Brookstone, some Hallmark stores, Marbles the Brain Store and Think Geek.
Maxfield & Oberton Holdings of New York City, the importer and distributor, refused to issue a recall last year, prompting the CPSC to file a lawsuit against the company in July to stop sales. The rare legal action – one of just four taken by the CPSC in the past 11 years – resulted in the company discontinuing its products in October. It stopped doing business in December. 
The product was manufactured by Ningo Prosperous Imp. Exp. Co. Ltd. of Ningbo City in China.
Buckyballs and Buckycubes vary in size and color, but they are essentially a ball or cube of small powerful magnets. They were sold in containers of 10 to 216 magnets that can become loose. The first of the two products was introduced in the U.S. in March 2009. Since then, over three million sets of magnets have been sold in U.S. retail stores and online. 
Maxfield & Oberton initially marketed Buckyballs to children, calling it "an amazing toy." It later rebranded the magnet toys as an adult desk toy and stress reliever. 
But while the magnets were being marketed to adults, the CPSC was still receiving reports that children were swallowing them. It has received 54 reports of injuries, all but one requiring medical treatment.
CPSC Complaint
The CPSC's July 25, 2012 complaint alleged that the magnet products had defective labeling and warnings, defective design, and posed a substantial product hazard. 
The CPSC began working with the company on labeling three years ago, when the magnets were labeled for use by children "Ages 13+." The agency said the magnets should have been marketed for age 14 and up.
Maxfield & Oberton changed the labeling and agreed to a voluntary recall of 175,000 magnet toys, but the CPSC said the injuries continued. In its complaint, it states, "…labeling and warning labels cannot guard against the foreseeable misuse of the product and prevent the substantial risk of injury to children."
Company officials did not agree with the CPSC's action. In October, they posted a statement on their website that read in part: "We're sad to say that Balls & Cubes have a one-way ticket to the Land-of-Awesome-Stuff-You-Should-Have-Bought-When-You-Had-the-Chance." 
Dangerous Toy
Over the past few years, the CPSC set up a Magnets Information Center on its website to educate the public about the danger of swallowing magnets.
The risk is that if a child ingests more than one of the powerful magnets, they can become attracted to each other while in the intestines, pinching tissue and damaging the intestinal walls. This can result in a wide range of symptoms, including vomiting, abdominal pain, infection and death. Surgery is often required and becomes more complicated because the magnets can stick to the metal surgical tools.
And in some cases children ingested more than one or two. CBS News reported the case of a 3-year-old Oregon girl who swallowed 37 Buckyballs. The CPSC complaint details cases of other young children who have swallowed numerous magnets.
Related:
CPSC administrative complaint
Recall information for consumers
About Breakstone, White & Gluck
Breakstone, White & Gluck of Boston specializes in personal injury and product liability cases. We have handled cases involving defective toys and other products. If you have been injured, it is important to learn your rights. For a free legal consultation, contact us today at 800-379-1244 or 617-723-7676 or use our contact form.