Decorating Safely for the Holidays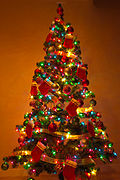 While it is the most wonderful time of the year, the holiday season is also a prime time for home fires.
In Massachusetts, from 2002 to 2007, Christmas Day saw the second most number of residential fires of any day while Christmas Eve ranked ninth, according to the Office of the State Fire Marshal. The majority of these fires can be prevented with planning and awareness.The Boston injury lawyers at Breakstone, White & Gluck offer these tips to help you and your family enjoy the season safely:
Christmas Tree Watering
Do not pick up your Christmas tree immediately after Thanksgiving.
Make sure you have an adequate size tree water stand.
Learn how much watering your tree needs. In general, you should use one quart of water per day for each stem diameter. Ask your local fire department for more instructions.
Remove your tree in a timely manner to avoid letting it dry out. Many communities offer special Christmas tree pickups after the holiday.
Another option is to cut up your tree branches and place them over a garden.
Do not leave your tree outside unattended overnight for teenagers and vandals to find.
Christmas Tree Holiday Lights
Keep your tree at least three feet away from flame or heat sources, such as fireplaces and radiators. These pose a fire risk and will dry out your tree faster.
Never put candles on or near your tree.
Check your Christmas tree lights for broken bulbs. If one is damaged, remove the whole string to avoid a fire accident.
Make sure your Christmas tree lights are designed for indoor use.
Unplug Christmas tree lights when you leave the house or go to bed.
Check if your Christmas tree lights have been tested for safety by a nationally recognized laboratory. If they have, they will be marked ETL, UL or CSA.
Do not put too many lights on your tree. Check the box for the appropriate number of strings.
Place your tree near a power outlet to reduce use of extension cords. Make sure extension cords have been marked UL to show they have been tested.
If you have an artificial tree, check to see if it has the label "Fire Resistant."
Holiday Candles
Use sturdy candle holders with flame-protective and non-combustible shades or globes.
Never leave burning candles unattended.
Place burning candles in the center of tables.
Place burning candles at least four feet away from curtains, bedding and other flammables.
Keep candles and matches away from children.
When lighting candles, secure hair and clothing away from candles to prevent injuries.
If you are lighting multiple candles, make sure you are aware of how much heat they generate.

The Boston injury lawyers at Breakstone, White & Gluck promote safety through education. We have over 80 years combined experience in handling cases involving serious personal injuries, car accidents and wrongful death. If you or a loved one has been injured, contact us today for a free legal consultation at (617) 723-7676 or (800) 379-1244 or use our contact form.