Head Injuries: Boston University Study Investigates Brain Damage in Deceased Athletes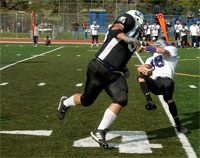 In a new study, Boston University School of Medicine researchers autopsied the brains of deceased athletes who suffered repeated concussions and found the majority showed signs of a degenerative brain disorder called chronic traumatic encephalopathy (CTE).
The researchers autopsied 85 deceased brain donors, including 82 athletes. This included 34 professional football players. Researchers found a buildup of an abnormal brain protein called tau in 68 brain donors. By contrast, they autopsied 18 brains with no known trauma and found no protein buildup. Tau is associated with CTE, a degenerative condition linked to memory loss, depression and dementia.
The autopsies found the most extensive brain damage in the professional athletes who died after age 50. They experienced the most severe memory loss and personality changes in their final years.
The football players included National Football League (NFL) Hall of Famers running back Ollie Matson and Colts tight end John Mackey. Both died last year after suffering from dementia.
The researchers also described the four stages of CTE. In the first stage, the injured individual experiences headaches and trouble concentrating. Symptoms progress to depression, aggression and short-term memory loss, followed by serious cognitive impairment and dementia.
Last spring, more than 3,000 former players filed a lawsuit against the National Football League, claiming the league hid information about football-related head injuries. The NFL claims the head injury lawsuits have no merit and asked a federal court in Philadelphia to dismiss more than 100 injury claims, saying they should be resolved through the NFL's collective bargaining process rather than the courts.
Many states, including Massachusetts, have also implemented laws in recent years which mandate concussion training for high school athletes and provide rules for how long students must sit out after a head injury.
The research was reported in the journal Brain.
Related:
Boston researcers find new evidence linking concussions to permanent brain injury, The Boston Globe.
Evidence of brain damage from repeat concussions mounts, The Boston Globe.
NFL asks federal judge to dismiss concussion lawsuits, NFL.com.
BU-Led Research Maps the Route to Dementia, BU Today.
The Boston head injury lawyers at Breakstone, White & Gluck are experienced in handling cases involving head injuries and concussions. If you have been injured, it is important to learn your rights. For a free legal consultation, contact us toll-free at 800-379-1244 or 617-723-7676 or use our contact form.