Last summer, the National Football League (NFL) announced it had reached a $765 million settlement with retired players who suffered from concussions and head injuries. But a federal judge has rejected the settlement and the debate about how to address the risk continues.
Even President Barack Obama has spoken: "I would not let my son play pro football," he told The New Yorker magazine. But like many of us, he is a fan; he made the statement while watching the Miami Dolphins play the Carolina Panthers.
Recent surveys show many agree with the president, but many do not. In January, a NBC News/Wall Street Journal poll reported 40 percent of Americans would encourage their children to play another sport. Nearly 60 percent answered they would not discourage their children from playing organized football. Other findings include:
Some 41 percent thought the NFL has taken meaningful action to reduce and prevent concussions; 20 percent disagreed.
Roughly half of those surveyed with an annual salary of $75,000 or more said they would encourage their child to play another sport. On the other hand, only about 25 percent of those who earned $30,000 or less per would try to steer their child to another sport.
One third of those who did not attend college said they would encourage their children not to play football, compared to 42 percent of college graduates and 57 percent of people with post-graduate degrees.
The NBC News/Wall Street Journal poll included 800 adults and had a margin of error plus or minus 3.46 percentage points.

Another Poll
In October, a HBO Real Sports/Marist poll reported a deeper divide. Out of more than 1,200 adults, one third said they would be less likely to allow their own son to play football if given the choice. But in the end, 85 percent said they would let their son play. Another 13 percent said they would not and two percent were unsure. (The study did not report on how respondents would feel about letting their daughters play.)
NFL Concussion Lawsuit
The NFL released figures in January showing the number of player concussions dropped 13 percent from 2012 to 2013. It has taken several steps to prevent concussions, including adding neurological consultants to the sidelines and replacing equipment.
But another notable part of the debate came from a recent NFL Nation survey of 320 players, just prior to the Super Bowl. The survey reported 85 percent would play in a Super Bowl with a concussion.
More than 4,500 retired players have filed concussion-related lawsuits against the NFL. The settlement must cover over 20,000 retired players for 65 years. The players accuse the league of long concealing the long-term risk of concussions from players, coaches and trainers. If an athlete suffers multiple concussions, it can lead to chronic traumatic encephalopathy (CTE), a progressive degenerate disease of the brain which is associated with memory loss, depression, paranoia, confusion and dementia.
Related:
Going the Distance, The New Yorker.
Poll Finds 40 Percent Would Sway Children Away from Football, Wall Street Journal.
Read More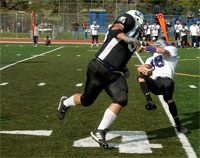 In a new study, Boston University School of Medicine researchers autopsied the brains of deceased athletes who suffered repeated concussions and found the majority showed signs of a degenerative brain disorder called chronic traumatic encephalopathy (CTE).
The researchers autopsied 85 deceased brain donors, including 82 athletes. This included 34 professional football players. Researchers found a buildup of an abnormal brain protein called tau in 68 brain donors. By contrast, they autopsied 18 brains with no known trauma and found no protein buildup. Tau is associated with CTE, a degenerative condition linked to memory loss, depression and dementia.
The autopsies found the most extensive brain damage in the professional athletes who died after age 50. They experienced the most severe memory loss and personality changes in their final years.
The football players included National Football League (NFL) Hall of Famers running back Ollie Matson and Colts tight end John Mackey. Both died last year after suffering from dementia.
The researchers also described the four stages of CTE. In the first stage, the injured individual experiences headaches and trouble concentrating. Symptoms progress to depression, aggression and short-term memory loss, followed by serious cognitive impairment and dementia.
Last spring, more than 3,000 former players filed a lawsuit against the National Football League, claiming the league hid information about football-related head injuries. The NFL claims the head injury lawsuits have no merit and asked a federal court in Philadelphia to dismiss more than 100 injury claims, saying they should be resolved through the NFL's collective bargaining process rather than the courts.
Many states, including Massachusetts, have also implemented laws in recent years which mandate concussion training for high school athletes and provide rules for how long students must sit out after a head injury.
The research was reported in the journal Brain.
Related:
Boston researcers find new evidence linking concussions to permanent brain injury, The Boston Globe.
Evidence of brain damage from repeat concussions mounts, The Boston Globe.
NFL asks federal judge to dismiss concussion lawsuits, NFL.com.
BU-Led Research Maps the Route to Dementia, BU Today. Read More