Fourth Season Begins for Boston's Hubway Bike Share Program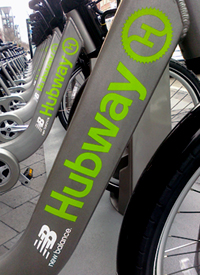 Hubway, Boston's popular bike share program, launched its fourth season earlier this month. Four years shows a lot of ground covered for the program.
Hubway was launched on July 28, 2011, as a partnership between the City of Boston and Alta Bicycle Share, with 600 bikes at 60 rental stations. The program has been a big success and this season, riders will share 1,300 bikes at 140 bike rental stations in Boston, Cambridge, Somerville and Brookline. The program hit the 1,500,000-rider mark last Thanksgiving, then closed out 2013 with nearly 10,000 annual subscribers (and that's not counting the short-term memberships).
In the past, Boston split both operating costs and profits with Alta Bicycle Share. Boston paid for its share using private sponsorships and public grant money.
But Boston is now venturing out on its own. Under a new contract, Boston will fund all operating costs and pay Alta Bicycle Share for services. The city will buy all services for a lower rate, about 30 percent less. For each bike dock, this translates into about $70 per month for maintenance and operations. This is lower than other U.S. programs, such as the Capital Bikeshare in Washington D.C., which pays $111 per bike dock.
This is good news and comes at a time when other cities are struggling to pay the bills for their bike shares. Montreal's bike-share program filed for bankruptcy in January and New York City's bike program recently asked officials for millions of dollars in aid.
In addition to seeking public grants and private sponsorship, Boston has kept costs down by closing bike racks for the winter. However, this past winter, Cambridge sites were kept open as a pilot test program.
What is new with Hubway this season:
Cambridge. The city kept Hubway racks open throughout this winter, as part of a pilot program. The system saw an average of 2,000 Hubway trips per week, with no injuries or incidents reported. Six new stations are expected to open this season.
Boston. Ten new Hubway stations are expected in Jamaica Plain and Dorchester this year.
Boston bike helmets. The program asks all riders to agree to wear helmets in their rental contract and has partnered with city businesses to offer subsidized helmets in the past. Last fall, it tested the first bike helmet vending machine in Back Bay, on the corners of Boylston and Massachusetts Avenue. The vending machine holds three dozen helmets and accepts returns.
Bike helmets are required for cyclists age 16 and under in Massachusetts. In addition to requiring use for Hubway cyclists, Boston city officials have discussed the possibility of passing a local law mandating use by all cyclists to protect riders from the risk of long-term head injuries in bicycle accidents.
Brookline. The city will re-open the same four stations in Coolidge Corner, Washington Square and Brookline Village.
Somerville. Somerville will open 12 stations this year. One change is the Ball Square station will be moved to Magoun Square.

About Breakstone, White & Gluck
The Boston injury attorneys at Breakstone, White & Gluck have over 100 years combined experience representing injured cyclists. We have handled bike accident cases throughout Massachusetts. If you have been injured, it is important to learn your rights. For a free legal consultation, contact us at 800-379-1244 or 617-723-7676 or use our contact page.