Gas Explosions: More than 3,300 Gas Leaks in Boston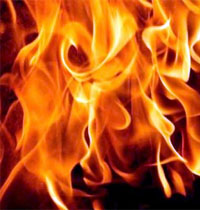 There are more than 3,300 natural gas leaks in Boston's aging underground pipelines, a new Boston University study has found. Six areas had gas levels which exceeded the amount needed to trigger a gas explosion.
Those gas leaks were repaired while no action has been taken on the others, which the state Department of Public Utilities and gas companies described as a small risk for gas explosions. Dorchester had the largest number of gas leaks, 951 breaks over 158 miles of cast-iron gas mains. However, several areas had a greater number of leaks per mile, including East Boston, Jamaica Plain, Brighton, Charlestown and South Boston.
The study into gas leaks and explosion risks was conducted by an associated professor from Boston University's Department of Earth and Environment and a researcher from Duke University. It was recently published in the journal Environmental Pollution and reported on by the Boston Globe.
The two researchers drove all 785 miles of Boston's streets to test the air for methane, the primary ingredient in natural gas. The two measured for methane levels which exceeded 2 parts per million – the normal amount in the air.
Natural gas is colorless and odorless, but uses the chemical additive mercaptan which emits a distinct rotten eggs odor to signal a leak. Gas leaks can occur in several ways, often when underground pipes crack as they age or in cold weather or when a pipe is struck by construction equipment.
Some people want to hold gas companies more accountable for fixing gas leaks in Massachusetts. A bill sponsored by state Representative Lori Ehrlich of Marlbehead would require a timeline for fixing the most serious leaks. Utilities would be required to notify police and fire of the gas leak locations. The bill unanimously passed the House of Representatives in June and is now before the state Senate.
The Conservation Law Foundation plans to release a report on natural gas leaks soon. An official suggested the state could require timelines for gas companies to repair various grades of leaks and improve accelerated reimbursement rates for gas companies that replace old gas lines.
Related:
Boston riddled with mostly small natural gas leaks, Boston University study finds, Boston Globe.
Gas leaks graphic, Boston Globe.

The Boston personal injury lawyers at Breakstone, White & Gluck have over 85 years combined experience handling cases involving gas explosions, construction accidents and burn injuries. We recently settled a propane gas explosion case involving the wrongful death of an electrician. You can view a video related to the case on our website.
If you or a loved one has been injured, it is important to learn your legal rights. For a free legal consultation, contact us today at 800-379-1244 or 617-723-7676 or use our contact form.