Defective Bikes and Equipment List for Cyclists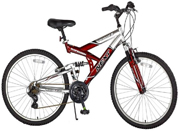 Each spring, cyclists throughout Massachusetts say goodbye to winter and put their bikes back on the road. But whether you cycle every day or just occasionally, now is the time to make sure your bike and equipment meets the latest safety regulations.
It is good practice to test and inspect key parts of your bike, such as the quick release wheels, brakes and pedals.Then check with the manufacturer of your bicycle. Look online and see if if offers an owners' manual. If you have not done so, register your bike so you may receive recall notices.
You can also check the Consumer Product Safety Commission (CPSC) website for recent bicycle recalls. Each year, the CPSC recalls hundreds of thousands of bicycles and parts after receiving reports of defects and injuries.
Here are a few recent bicycle and equipment recalls from the CPSC:
Recalled Bicycles. Some 91,000 Bridgeway Bicycles were recalled in September 2011 because of a defective bicycle chain which can break, causing the rider to lose control and fall. The CPSC received 11 incident reports, including injuries, lacerations and contusions. Read more.
Children Bicycle Seats and Trailers. Two of the largest bicycle-related recalls involve defective children's equipment. Topeak Babyseat II Bicycle Carrier Seats were recalled in April 2012 after two reports of near amputations and crushed fingers. When a child is lifted out of the seat, their fingers can get caught in a defective hinge mechanism. The product recall affected 30,400 consumers. Read more.
In January 2012, 44,000 Chariot bicycle trailers and 70,000 trailer conversion kits were recalled after 24 incident reports around the world, including three in the U.S. The trailer's hitch mechanism can crack and break, causing the trailer to detach from the bicycle. Read more.
Helmets. Little Tricky Bicycle Helmets recalled 30,400 bicycle helmets in January 2012. Product testing demonstrated the helmets did not comply with CPSC safety standards for impact resistance. Read more.
Click for a full list of recent bicycle-related recalls from the CPSC.

The Boston product liability lawyers at Breakstone, White & Gluck have over 80 years combined experience handling cases involving defective products, injuries and wrongful death. If you have been injured, it is important to learn your rights for seeking compensation. For a free legal consultation, contact us today at 800-379-1244 or 617-723-7676 or use our contact form.