5 Steps to Take Now for a Safe Bike Season in Massachusetts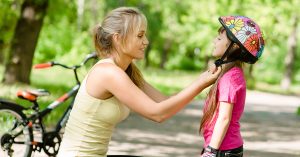 Boston saw 70 degrees in February last week. Naturally, many of us are now ready for Spring. If you are a cyclist or have a child who rides, now is the time to get ready for a safe cycling season.
The attorneys of Breakstone, White & Gluck have long represented cyclists who have been injured by negligent drivers in Massachusetts. We are committed to preventing these bicycle accidents and reducing injuries. In a few weeks, we will begin the 6th year of our Project KidSafe campaign, donating bicycle helmets to children in Boston and other communities. Bike helmets are critical to preventing concussions and traumatic brain injuries. And they are most effective when cyclists start wearing them at an early age with positive reinforcement from parents and other family members.
We will share more on our campaign soon. For now, we have a few bike safety tips from our attorneys and the League of American Bicyclists to help you get ready for a safe cycling season.
1) ABC Quick Check
Check the basics, including the air in your tires, your brakes and the cranks and chain. Then check your quick releases to make sure they are all closed and pointing toward the back of your bike. Then take a quick ride to make sure your bike is properly working. If you are a parent, watch your child on a test ride.
2) Get a Bike Helmet
Always, always wear a properly fitted bicycle helmet. Purchase a new helmet every few years or sooner if you have been involved in a bike crash. A helmet is a critical tool in preventing head injuries and is required by law for cyclists who are 16 and younger in Massachusetts. Families who bike together should wear helmets together. Children are more likely to adopt the habit if their parents do the same.
We are often asked whether cyclists should purchase helmets online or shop local. We suggest you visit the local bicycle shop. Try a few helmets on while getting help from an experienced cyclist. Buying the right size is hard and an experienced cyclist can be very helpful. Beyond that, bicycle shops are a lot of fun. You can learn a lot about cycling in your area by visiting one.
Here is a video on how to fit a helmet.
3) Stock Up on Bright Colored Clothing
Whether you ride in cycling gear or street clothes, we suggest you purchase a neon safety vest for yourself and family members. You can wear it every time you ride to stand out or just in busy traffic.
4) Check Your Equipment
In Massachusetts, cyclists must use bike lights so they are visible to motor vehicles in the morning, up to one-half hour before sunrise, and in the evening, starting no later than thirty minutes after sunset. Remember—dusky hours can make you very hard to see, which is why that bright clothing is even more important. Read more about the law on our website.
5) Prepare for the Bike Trail
Remember the rules of safety on bike trails, too, and always be considerate of other cyclists. Do not speed. Travel on the right. Pass on the left. Use a bell or announce you plan to pass another cyclist. Although you are permitted to ride two-abreast, courtesy suggests you should ride single file when you travel in a group. Finally, expect to stop when the bike trail crosses street traffic.
About Breakstone, White & Gluck 
The Boston personal injury lawyers at Breakstone, White & Gluck have over 100 years combined experience representing pedestrians, cyclists and others injured by car accidents. We are committed to safety for cyclists. Through our Project KidSafe campaign, we have donated more than 15,000 bicycle helmets to children in Massachusetts. For our commitment to safety, our firm has been recognized by the League of American Bicyclists as a Silver Level Bicycle Friendly Business.
If you have been injured by someone else's negligence, it is in your best interests to consult a personal injury lawyer and learn your legal rights. For a free legal consultation, contact our attorneys at 800-379-1244 or 617-723-7676 or use our contact form.