Window Blind Design Reconsidered After Numerous Infant Deaths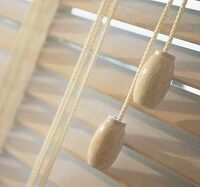 The Consumer Product Safety Commission (CPSC) has asked manufacturers to re-design window blinds so as to eliminate the risk of infant wrongful death from strangulation.
Window blind manufacturers have known about the problem for decades, starting with a federal study in the 1980s that tied 41 child strangulation deaths to drapery and blind cords. Since then, manufacturers have dragged their feet when it comes to improving safety.
And infants are still dying. The NY Times reports that in August 2009, Kathleen Leeson put her 2-year-old son down for a nap. A short time later, Ms. Leeson discovered her son hanging, lifeless, an inch off the floor with the window blind cord wrapped around his neck. Further, in 2002 1-year-old Cheyenne Kaiser was found by her mother strangled sitting up in her crib, which was next to the window, with the inner window blind cord wrapped around her neck.
The CPSC has released a safety alert for concerned parents explaining the risk of personal injury and wrongful death to children from the various types of window blind cords. In its safety alert, the CPSC makes four recommendations to help prevent these tragic strangulation injuries:
Use only cordless window blinds in all homes where children live or visit;
Do not place cribs, beds, or furniture close to windows where children can climb and gain access to the cords;
Make all loose cords inaccessible; and
In windows with looped bead chains or nylon cords, use tension devices to keep the cord taut.
Moreover, in response to the industry's unenthusiastic attempts at improving product safety, a task force of regulators, consumer advocates, and industry leaders have come together to find a solution by the fall of 2011.
The CPSC has also warned the window blind industry that, if it cannot reach a solution soon to minimize these life-threatening dangers, it may face mandatory safety regulations.
The Boston product liability lawyers at Breakstone, White & Gluck are experienced at handling cases involving defective products that cause injuries and wrongful death. If your child has suffered a strangulation injury due to a window blind cord, you and/or they may be entitled to compensation for the resulting personal injury and/or wrongful death. Contact the consumer safety lawyers at Breakstone, White & Gluck to speak with an experienced Massachusetts product safety lawyer to determine your rights.