Unsafe Magnet Toys Buckyballs are Finally Recalled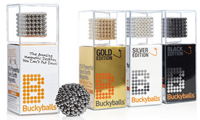 We have written in the past about Buckyballs, a dangerous magnetic desk toy which has injured too many children. Last week came another development, which we hope finally removes this unsafe product from circulation.
On May 12, the U.S. Consumer Product Safety Commission (CPSC) announced a voluntary recall for all Buckyballs and Buckycubes. The recall settles an administrative case filed by the CPSC in July 2012. As part of this, Craig Zucker, the former chief executive officer of Maxfield & Oberton Holdings, agreed to establish a Recall Trust. Consumers will be able to request a refund from this fund, which will be controlled by the CPSC. The agency also urges the public to stop using these defective products immediately and look for loose pieces.
Maxfield & Oberton Holdings began selling Buckyballs in 2009. The company said the magnetic desk toy was intended for adults. The problem is if a child starts playing with the tiny magnets, they can swallow them. The magnets can attract inside a child and cause painful intestinal injuries. Surgery is often required and there can be serious longstanding health consequences, such as children having to consume food through a feeding tube.
The CPSC first worked with the company to improve warning labels. The products were marketed for children "Ages 13+" and the CPSC said they should have been marketed for age 14 and up. The company agreed to recall 175,000 magnetic toys and made the change. But the injuries continued. In July 2012, the CPSC filed a lawsuit asking the company to stop sales altogether, a rare legal action the agency has only taken four times in 11 years. The agency alleged that Buckyballs and Buckycubes contained, "a defect in the design, packaging, warnings and instructions, which pose a substantial risk of injury to the public."
Maxfield & Oberton refused to recall Buckyballs and Buckycubes and in December 2012, the company went out of business. But it was vocal about disagreeing with the CPSC and posted this message on its website:
"Due to baseless and relentless legal badgering by a certain four letter government agency, it's time to bid a fond farewell to the world's most popular adult desk toys, Buckyballs and Buckycubes. That's right: We're sad to say that Balls & Cubes have a one-way ticket to the Land-of-Awesome-Stuff-You-Should-Have-Bought-When-You-Had-the-Chance."
In April 2013, six retailers voluntarily recalled Buckyballs and Buckycubes while the CPSC kept trying to raise awareness about the dangers of Buckyballs and other magnetic toys. It established the Magnet Information Center as a consumer resource. Between 2009 and 2011, the CPSC estimates there were 1,700 ER-treated magnet ingestion cases related to high-powered magnet sets.
Zucker will have to eventually fund a website, where consumers can apply for a refund.
Related:
Buckyballs and Buckycubes High-Powered Magnet Sets Recalled Due to Ingestion Hazard; Craig Zucker To Fund A Recall Trust, Settles With CPSC, Consumer Product Safety Commission.

About Breakstone, White & Gluck
The Boston product liability lawyers at Breakstone, White & Gluck have more than 100 years combined experience handling cases involving defective and unsafe products. If you or a loved one has been injured, it is important to learn your legal rights. For a free legal consultation, contact us at 800-379-1244 or 617-723-7676 or use our contact form.