Posts Tagged '"Tropical Storm Irene"'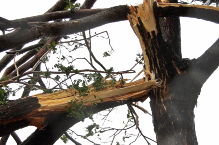 Now that Tropical Storm Irene has passed, residents and businesses throughout Massachusetts have started the extensive clean-up. Many remain without power.
An estimated 4.5 million homes and businesses along the East Coast lost power, including 700,000 in Massachusetts, officials reported. Utility and state officials estimate it may take several days to restore power in some communities.
The storm caused 26 deaths across the country. In Massachusetts, a public works employee on his way to join recovery efforts was electrocuted Monday by a downed power line outside his Southbridge home.
From Storrow Drive in Boston to Interstate 91 in western Massachusetts, many roads were shut down by flooding. Residents in several communities were evacuated from their homes, including in several western Massachusetts towns, Southboro and New Bedford,
Whether you are cleaning up your yard, driving or waiting for power to be restored, it is essential to think safety for you, your family and property. Here are safety tips from the Boston personal injury lawyers at Breakstone, White & Gluck:
Be prepared for intersections without working traffic lights or police officers to direct cars.
When driving, travel farther behind the vehicle in front of you than normal. Road detours and single-lane roads may not be visible until just before you reach them.
Give even more room when traveling behind tractor trailers carrying heavy loads of branches and storm debris.
If your home is still without power, make sure you have enough flashlights and plenty of extra batteries. Avoid using candles.
Natural gas or propane valves that have been under water should be replaced. Smell and listen for leaky gas connections that may trigger an explosion.
If you believe there has been a gas leak, there is risk for a home explosion. Immediately leave the house, leave the doors open and contact a gas system professional before you return.
Take measures to avoid food poisoning. Throw away any refrigerated foods that are held at above 40 degrees for more than two hours. Food can generally keep for up to 4 hours in a refrigerator that is not opened and between 24 to 48 hours in a freezer.
Watch news reports to see if your local health department has cleared tap water for safe consumption. If you are without power and cannot watch television or access the Internet, call your town or city hall to ask.
Watch out for and stay away from downed power lines.
Do not enter and avoid walking near damaged buildings.
Be careful walking under trees as there may be loose branches.