Posts Tagged 'red light car accidents'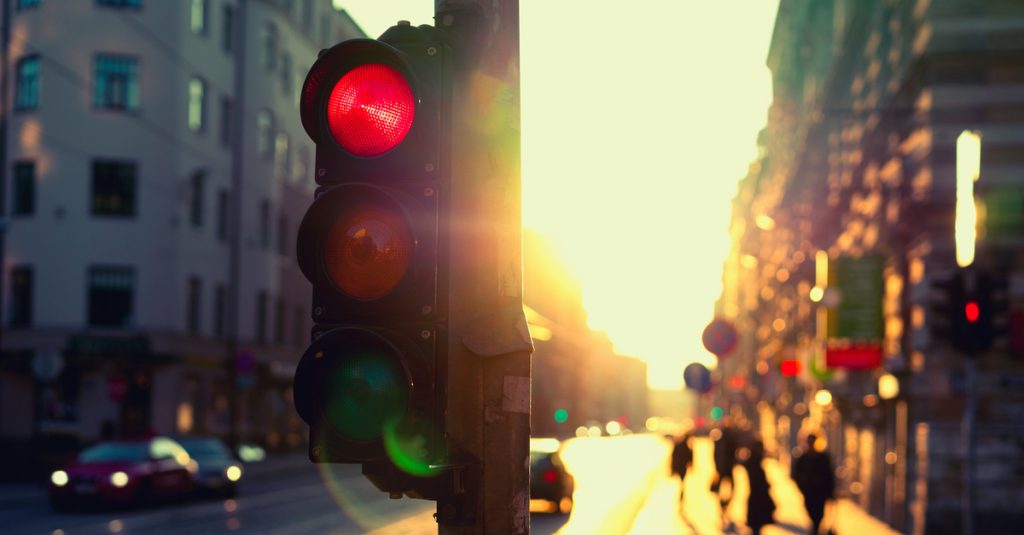 While red means stop, we have all seen cars speed on, especially if you live in Boston. Our attorneys have represented countless clients who have been seriously injured or killed by another driver's recklessness at intersections. Now, a new study reports running a red light is causing a record number of traffic fatalities across the United States. From AAA's Foundation for Traffic Safety:
Red light running crashes have reached a 10-year high in the U.S.
939 people were killed when drivers sped through red lights in 2017, a 28 percent increase over 2012.
More than a quarter of all intersection accidents happen because drivers run red lights.
Nearly half of those injured in red light crashes were passengers or occupants of other vehicles. Pedestrians and cyclists accounted for more than 5 percent of fatalities.
Over 35 percent of traffic deaths were red light running drivers themselves.
85 percent of drivers consider it very dangerous to run a red light, yet one in three reported speeding through one in the past 30 days, according to AAA Foundation's Traffic Safety Culture Index.
On the same note, nearly half (more than 2 out of 5 drivers) found it unlikely that they would ever be stopped by law enforcement.
Despite these responses, running a red light can have serious consequences, resulting in a possible insurance surcharge or criminal charges.
AAA officials count Americans driving more and distracted driving as two causes. Meanwhile, the Federal Highway Administration reports more than 50 percent of fatal and injury crashes in the U.S. happen at or near an intersection.
Massachusetts Red Light Accidents
Red light crashes are a danger at Massachusetts intersections. From 2008 to 2017, Massachusetts lost 43 people when drivers ran red lights, according to Wicked Local. These deaths are just the drivers who were caught and are in addition to other injuries.
Safety Recommendations: Roundabouts and Traffic Cameras
AAA officials say roundabouts and traffic cameras could reduce the number of crashes. Massachusetts is actively working to convert rotaries into roundabouts, which are considered safer because they force drivers into the correct lanes. However, with more than 100 rotaries across Massachusetts, change will take time.
There is long-standing opposition to traffic cameras at Massachusetts intersections, even as AAA says traffic cameras have reduced fatal red light running crashes by 21 percent in large cities. Overall, traffic cameras have contributed to a 14 percent reduction in all fatal crashes at signalized intersections.
Unlike some states, Massachusetts does not have a state law permitting use on local intersections. While MassDOT operates traffic cameras along the MassPike, there is a battle over local intersections.
More than a decade ago, several Massachusetts communities attempted to pass ordinances allowing for red light cameras, among them Saugus, Lawrence and Springfield. South of Boston, Brockton also approved a local traffic camera ordinance. Traffic cameras were never installed. Citing privacy concerns, state lawmakers declined to pass the legislation necessary for these local ordinances to stand. Now years later, there are state lawmakers interested in similar legislation, so we may be revisiting the debate at some point. Here is one lawmaker's blog.
Across state lines, you may find traffic cameras at red lights in Rhode Island, along with 19 other states. Rhode Island, however, does not have a state authorizing the use of speed cameras (Source: Governors Highway Safety Association).
AAA only recommends traffic cameras at intersections with demonstrated patterns of red light violations or high crash rates. Cameras should be part of broader traffic safety programs and drivers should be notified through signage and other methods.
Reducing Red Light Accidents in Massachusetts
Drivers have a responsibility to operate with care and pass other vehicles, cyclists and pedestrians at a safe distance in Boston and every other community in Massachusetts.
The Boston area commute is stressful. Leaving your home a few minutes earlier was once an effective way to beat the traffic. Unfortunately, as traffic congestion has grown, you now have to leave even earlier in many Massachusetts communities and that isn't always enough to beat the 2-3 hour commutes. But even in these conditions, practicing patience and putting down your cell phone are paramount to preventing red light crashes and distracted driving accidents causing injury or death. Always watch for pedestrians and cyclists, maintaining a safe distance at all times and taking extra care when approaching crosswalks and bike lanes. Remember you may not be able to see a pedestrian until that moment they step onto the road.
Free Legal Consultation – Boston Car Accident Lawyers
Breakstone, White & Gluck has been recognized for our superior results for clients. Founded in 1992, our law firm specializes in representing those who have been injured due to the negligence and wrongdoing of others. We specialize in handling cases involving car accidents and truck crashes in Boston, Cambridge, Cape Cod, the South Shore, the North Shore and across Massachusetts. If you have been injured, learn your rights. Contact our firm for a free legal consultation: 800-379-1244 or 617-723-7676 or use our contact form.