Posts Tagged '"Boston law firm"'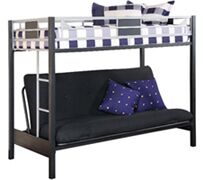 A popular bunk bed set is being recalled after a three-year-old boy became entrapped in the frame and died due to asphyxiation.
Big Lots of Columbus, Ohio is recalling 30,000 metal futon bunk beds sold at its stores nationwide from January 2009 through April 2010 for about $200.
The recalled beds have a convertible futon bed on the bottom with a metal ladder leading up to a twin-sized bed. The Consumer Product Safety Commission (CPSC) warns parents that children behind the futon or in the ladder area can become entrapped when the futon and its metal frame are lowered to the flat position.
In March 2010, a young boy from Burlington, Iowa suffered a wrongful death after his head and neck got caught in the bunk bed. The child was unable to breathe and died at the hospital due to compression asphyxiation.
An additional hazard is the space between the last rung on the defective bunk bed's ladder and the futon mattress is too small, posing a head and neck entrapment hazard.
The Big Lots recall involves metal futon beds with model number BFB1008 located on a label on the upper bunk. The defective beds were sold unassembled and were manufactured in China.
Consumers should immediately stop using the defective bunk beds. They can contact Big Lots for a free repair kit containing a new ladder and other parts.
Consumers can contact Big Lots at (866) 244-5687 during business hours Monday through Friday or visit the retailer's website at www.biglots.com.
Big Lots has stores throughout Massachusetts, including in Lynn, West Bridgewater, Franklin, Milford, Methuen, Attleboro, Raynham Center, Worcester, Fitchburg, Seekonk, Swansea, Dudley, Gardner, Springfield and Northampton.
Read More
Summer is here and that means it is time to enjoy the pool – and think safety. Each year, thousands of children are injured in the pool and hundreds lose their lives in drowning incidents. So while we want you to enjoy your pool this summer, we ask you to commit to protecting your children and family.
Keep these safety tips in mind:
Supervise children at all times. If you're in a group, it's easy to get distracted so consider designating someone a "pool watcher."
Learn how to swim and teach your children.
Get CPR training.
Keep a phone with you at the pool.
Make sure you have proper rescue equipment and keep it nearby.
Keep your pool inside a fence at least four-feet tall and secure it with a durable lock when not in use.
Remember small children can drown in kiddie pools and watch them accordingly.
Check your pool's drains. Suction from a pool's drain can be powerful enough to trap both children and adults underwater. Do not use any pool or spa with broken or missing drain covers. At community pools, ask the operator if the pool complies with the Pool and Spa Safety Act.
Why it's important:
Pools were involved in the overwhelming majority of emergency room visits for drownings and submersion injuries from 2006 to 2008 across the country. They accounted for the majority of reported drowning fatalities from 2004 to 2006.
From 2006 to 2008, there were on average 3,100 pool and spa related emergency department visits nationwide involving drowning injuries.
Children ages one and two accounted for 62 percent of drowning injuries from 2006 to 2008 nationwide.
For more information on pool safety, visit www.poolsafety.gov.
The statistics from this article come from the Consumer Product Safety Commission and is available here.