Project KidSafe: Bicycle Helmet Donations for Norwood Police and Bikes Not Bombs
As we continue our 2017 Project KidSafe campaign, Breakstone, White & Gluck wants to share a few recent bike helmet donations and some bicycle safety tips for children over the Memorial Day weekend.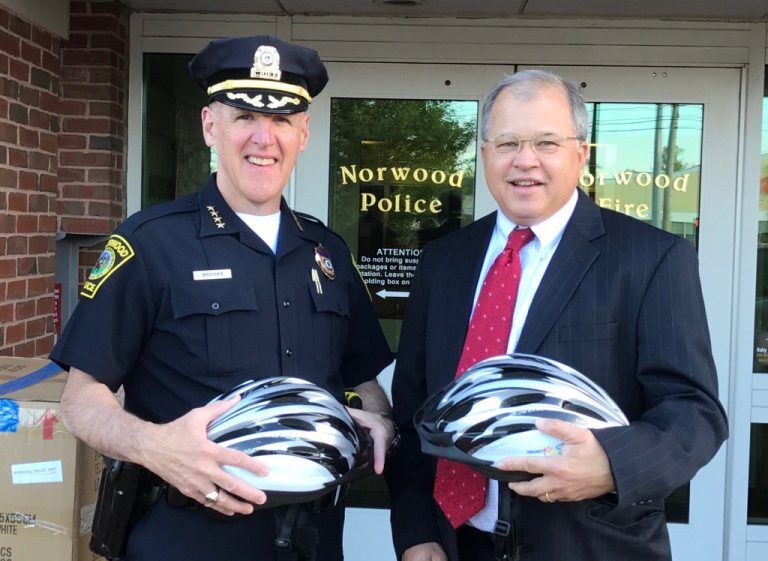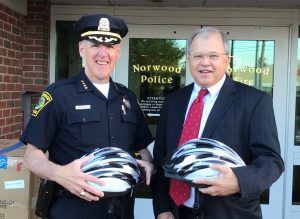 Breakstone, White & Gluck was pleased to donate 100 bicycle helmets to the Norwood Police Department for the third year. Attorney David W. White delivered the helmets to Norwood Police Chief William G. Brooks III in early May. The Norwood Police Department now plans to distribute the helmets at a bike safety event being planned for June. If you live in Norwood, watch local community calendars.
It was also our pleasure to donate 170 bicycle helmets to Bikes Not Bombs in Jamaica Plain. Founded in 1984, Bikes Not Bombs works to repair used bikes locally and internationally to help individuals. This was the fifth year we have made this donation.
In Boston, Bikes Not Bombs offers a popular Earn-A-Bike program, which teaches children and teenagers how to ride in the city and repair bikes during a six-week session. Students are taken on group rides and get to help refurbish a bike to take home. Each graduate also takes home a new bicycle helmet from our Project KidSafe campaign.
In addition to Earn-A-Bike, Bikes Not Bombs offers other programs for teenagers in the Boston area, aimed at helping them learn safe cycling skills and bike repair. These programs include Girls in Action and BOCA, a program which combines cycling and community action.
You may see a Bikes Not Bombs tent at local community events this Spring and Summer. The organization collects and rehabs bikes for people without access to transportation in Africa, Latin America and Caribbean. Bicycles provide a means of transportation and help individuals fight political oppression and rebuild communities. If you have an extra bike, consider making a donation. Learn more on the Bikes Not Bombs website.
Through our Project KidSafe campaign, Breakstone, White & Gluck has donated over 10,000 bicycle helmets to children in the Boston area since 2013. During the fifth year of our campaign, our goal continues to be to encourage children to wear a helmet every time they ride.
Study after study has shown wearing a helmet is the most effective way to protect you or your child from a head injury if you fall or are in a bicycle accident. Yet studies also show children are not always wearing helmets, even though many states have laws requiring helmet use for children. In Massachusetts, the law says children who are 16 years old and younger must wear helmets.
Earlier this month, the Today Show reported more than 400,000 kids are hurt each year while riding bikes, scooters, skateboards and skates or roller blades. Of the children injured on bikes, only 68 percent were wearing bike helmets, according to their parents.
---
As we approach the Memorial Day weekend, here are some reminders for helping young cyclists ride safe:
Wear a bicycle helmet. Select a helmet for your child which meets the Consumer Product Safety Commission standard. Properly adjust it so it has a snug fit and will provide protection in case of a fall or a bicycle accident. If you need help, there is an instructional video on our website. Then, tell your child it is important to wear a helmet every time they ride. Be sure to wear your helmet, too. These last two steps are the most important.
Wear neon and bright colors. Stock your child's drawers up with neon t-shirts and other clothing. You want to help your child stand out to traffic, pedestrians and other cyclists. Search "neon clothing" on Amazon.com for ideas.
Ride with your children. Enjoy cycling with your children and teach them safe riding techniques at the same time.
Control your bicycle. Keep both hands on your handlebars and tell your child to do the same. Keep school backpacks light or use a bike basket. Encourage children to always look ahead and not turn around to talk to you or other cyclists while pedaling.
No cell phone use. Do not let your child ride with their cell phone. If they must, make sure it is packed away in a backpack and turned off. Cell phone use is likely to lead to a bicycle accident.
Check equipment. Before they ride, check your child's bike. Make sure tires are properly inflated and that the brakes work.
Avoid riding at night. Children should not ride at night until they are older and have more experience on the roads. If you ride at night, be aware that you are required to use lights and reflectors under Massachusetts law.
About Breakstone, White & Gluck
Breakstone, White & Gluck is a Boston personal injury law firm which is committed to the safety of all bicyclists in Massachusetts. We have over 100 years combined experience representing bicyclists injured by the negligence of others. If you, or a member of your family, has been injured in a bicycle incident, please feel free to contact us for a free legal consultation at 800-379-1244 or 617-723-7676 or use our contact form. Thank you and RIDE SAFE!