Dog Attacks: Pit Bull Ordinances Nullified Under New State Law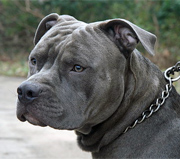 State lawmakers have handed cities and towns with pit bull ordinances a set back after passing a new animal control law which says no regulation may be specific to breed.
Boston, Lowell and Worcester are among the Massachusetts communities which have implemented pit bull ordinances in the past 10 years. None of the communities will be grandfathered under the legislation, "An Act Further Regulating Animal Control." Gov. Deval Patrick signed the bill into law Aug. 2 and it takes effect Oct. 31.
Boston enacted its pit bull ordinance in 2004 and it serves as the model for many other local communities seeking to reduce dog bites and attacks. The ordinance states dogs must be muzzled outside the owner's private home, apartment and car. All dogs in Boston are required to be leashed off their owner's property.
Under the pit bull ordinance, the owner must post a sign alerting the public and guests that there is a pit bull on the premises. Additionally, a dog owner may not register or keep more than two pit bulls.
If the pit bull owner is renting an apartment, the landlord must sign off written permission, which must then be presented to the city's Animal Control Officer.
Worcester and Lowell have similar ordinances to prevent dog bites and attacks, but they also require pit bulls be spayed and neutered. Lowell's ordinance began in July 2011, according to the Lowell Sun. Local law enforcement is still assessing the impact. But one visible change is more pit bull owners are registering their animals with the city. In the last six months of 2011, 30 pit bulls were registered with the city, according to the city clerk. In 2012, 56 pit bulls have been registered.
Worcester officials report the opposite since their ordinance took effect on April 1, 2011, according to the Telegram & Gazette. The Worcester city clerk's office reports in 2012, there were 221 licensed pit bulls in the city and an estimated 275 unlicensed. The number of registered pit bulls now stands at fewer than 70.
The city is still awaiting figures on recent dog attacks. But it implemented the law after a surge in dog attacks and figures which showed more than half involved pit bull attacks.
From Sept. 30, 2008 to Sept. 30, 2009, the city received 55 complaints of dog attacks or fear of a dog attack; 29 involved pit bulls. Police department figures further showed pit bulls were involved in 25 percent of the city's dog bites over a two-year period.
The new state law also includes other changes to animal control regulations, including providing standards for how police chiefs handle dogs deemed dangerous and establishes a Homeless Animal Prevention and Care Fund, which will be funded by voluntary donations on state tax returns.
Related:
Worcester pit bull regulations nullified, Telegram & Gazette.
New state law could maul Lowell's pit-bull ordinance, Lowell Sun.
Bill S.2192, An Act further regulating animal control.

The Boston dog bite lawyers at Breakstone, White & Gluck have over 100 years combined experience handling serious dog bite and dog attack cases in Massachusetts. If you or a loved one has been injured, it is important to be treated by a doctor immediately and then learn your rights for seeking compensation. For a free legal consultation, contact us today toll-free 800-379-1244 or 617-723-7676 or use our contact form.