Product Liability: Infant Recliner Recall Sought After 5 Deaths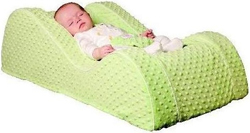 A manufacturer of baby recliners involved in five infant deaths is now the target of a lawsuit filed by the Consumer Product Safety Commission (CPSC).
The CPSC filed a complaint against Baby Matters, LLC of Berwyn, Pennsylvania on Dec. 5 after the company refused to issue a voluntary recall of the Nap Nanny Generation One and Two and Chill models. The CPSC is aware of four infants who have died in Nap Nanny Generation Two recliners and one in a Chill model. It has received over 70 additional reports of children nearly falling out of the defective product.
The CPSC complaint alleges the company's recliners contain defects in design, warnings and instructions, which pose a substantial risk of injury and death to infants. It seeks an order requiring the firm notify the public of the defect, remove it from store shelves and offer consumers a full refund. The company's website and media reports state it has gone out of business as a result of its legal costs.
Some 155,000 of the recliners have been sold since 2009. The company sold 5,000 Nap Nanny Generation One models and 50,000 Nap Nanny Generation Two models between 2009 and early 2012. Both are now discontinued. A recall was issued in July 2010 announcing Generation One owners would receive an $80 coupon and improved instructions and warnings to consumers who owned the Generation Two Nap Nanny recliner.
The company developed the Nanny Chill model as an improvement. One hundred thousand Nap Nanny Chill models have been sold since January 2011. The recliners are priced about $130.
The 2010 recall came after the CPSC learned about one death that occurred in a Nap Nanny recliner and received 22 reports of infants hanging or falling out over the side, even though most had been harnessed in.
In a statement on the company's website, owner/founder Leslie Gudel, said, "We do not believe the complaint has merit and stand behind the safety of our product when used as instructed."
Later in the statement, she said, "No infant using the Nap Nanny properly has ever suffered an injury requiring medical attention. The Nap Nanny was designed and constructed for use only on the floor with the harness secured."
Related:
Five infant deaths Prompt CPSC to Sue Manufacturer of Nap Nanny and Chill Infant Recliners, Consumer Product Safety Commission.
A message from Leslie Gudel – owner/founder Nap Nanny
Feds file suit against Nap Nanny maker after 5 infant deaths, 70 complaints, ABC News.

The Boston product liability lawyers at Breakstone, White & Gluck have over 85 years combined experience handling injury cases involving defective products which can cause serious injury and death. If you have been injured, learn your rights. For a free legal consultation, contact us today toll-free at 800-379-1244 or 617-723-7676 or use our contact form.