Medical Device Recall for CooperVision Contact Lenses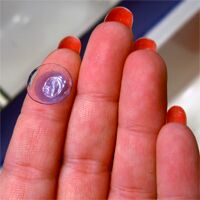 Consumers are advised to stop using a second type of CooperVision's Avaira contact lenses due to a defect that may result in blurry vision and other eye injuries.
On Nov. 16, an unknown quantity of CooperVision Avaira (enfilcon A) Sphere contact lenses were recalled due to the unintended presence of a silicone oil residue.
CooperVision, a Fairport, NY-company, recalled the lenses in cooperation with the Food and Drug Administration (FDA), which states that the silicone oil residue can result in a wide range of symptoms, including eye discomfort, hazy and blurry vision and eye injuries requiring medical treatment. The FDA regulates contact lenses as a medical device.
The recalled lenses were manufactured from Feb. 1, 2011 to Aug. 24, 2011 and distributed from March 2, 2011 to Nov. 15, 2011.
The contact lenses were used to correct myopia and hyperopia and non-aphakic individuals with non-diseased eyes. The lenses may be worn by individuals who have astigmatism of 2.00 diopters or less that do not interfere with visual acuity.
Lens wearers have been instructed to stop using the lenses immediately and contact their eye care professional. They can visit the CooperVision recall website and enter the defective medical device package numbers to determine if their lenses have been recalled.
The medical device recall expanded another in August 2011 for limited lots of Avaira Toric contact lenses. CooperVision said the product defect on that line has been corrected through its quality system process.
Contact lens injuries are prevalent, due to product defect or improper use. They are most common among children and adolescents. In a study published in the July 2010 Pediatrics, FDA researchers reported 23 percent of total medical device injuries in 2004 and 2005 in the U.S. involved children and contact lenses. Children ages 11 and over were the most affected.
Common personal injuries include corneal contusions and abrasions, hemorrhage and conjunctivitis.
Click to read the FDA notice about the CooperVision recall.

The Boston medical device recall lawyers at Breakstone, White & Gluck are experienced in handling cases involving defective hip implants, transvaginal mesh injuries and other defective products. If you have been injured, it is important to learn your rights for seeking compensation. Contact us today at 800-379-1244 or 617-723-7676 or use our contact form.