Pool Guests Swim with Caution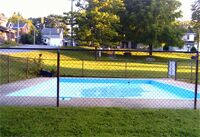 After another long winter here in Massachusetts, many of us are looking forward to some time by the pool. Whether you are a homeowner or a pool guest, take time to consider the rules of safety now so you can enjoy this time of year.
As a homeowner, you have a responsibility to keep your home reasonably safe for your family and your invited guests. If you own a pool, you have additional legal responsibilities to keep the swimming area safe. A safe swimming pool is critically important when children live at home or will be visiting. In fact, one third of all children who die between the ages of one and four are drowning victims in pools and spas, and hundreds more are critically injured.
Massachusetts regulates home swimming pools very closely. Here are some of the legal requirements and some common sense tips for the poolside.
Fencing. The law in Massachusetts requires homeowners to enclose pools with a fence at least four feet tall. It must have a self-closing lock which opens outward from the pool. Homes with a back door that opens onto a pool deck must have a pool alarm.
Diving Boards. Diving into a pool presents the risk of severe personal injury due to head and neck injuries. Diving boards are regulated for their size and height over water, and the water should be at least nine feet deep in the diving area. Shallow areas should be marked to prevent diving board injuries. Many insurance companies will request that your remove your diving board entirely as a safety precaution.
Pool Drains. Ask the pool owner where all the pool drains and suctions are and make sure your child steers clear of them. When a child is pulled into suction, they can become entrapped with a strong force, causing drowning and death. Make sure your child is not wearing any loose hair accessories or a bathing suit with loose straps that could get pulled in. Federal law changed in 2008, requiring public pools to start using drain covers to reduce suction deaths, but private homeowners may not have made the change.
Portable and Inflatable Pools. Though they are much smaller than in-ground pools, portable and inflatable pools can pose serious risks for injury, especially to toddlers.
Pool Slides. Whether it is a fixture or an inflatable, ask yourself if a slide looks like it can support you without tipping over. Ask the homeowner how long they have had the slide and if there have been any problems. In 2006, a woman died in Massachusetts after using a Banzai brand inflatable slide. The now-recalled slide collapsed under her as she slid down. She struck her head and later died.
Watch Children Closely. Give your children your complete attention while they are near the pool. Drowning claims more lives among children ages 1 to 4 than any other cause except birth defects, according to the Centers for Disease Control and Prevention. It is the second leading cause of unintentional injury-related death for children and teens ages 1 to 14. Set aside your cell phone, magazines and other distractions and watch your children. If you are in a group of adults, take turns being the "pool watcher." Have that person step a few feet away from the conversation and concentrate solely on watching the children.
Poolside Toys. Avoid any toy or equipment that is not meant for use at the pool, including trampolines. Inspect all equipment before use.
Broken Glass. Serious accidents can happen when beer bottles and other glass are used near the pool. Broken glass at the poolside is obviously dangerous, so it makes sense to use only plastic or metal containers near the pool. Glass in the pool is even more dangerous–clear glass simply cannot be seen in the water, and will be a serious hazard to anybody using the pool. If there is broken glass in the pool, the only safe remedy is to drain the pool to sweep it out.
About Breakstone, White & Gluck
The Boston personal injury lawyers at Breakstone, White & Gluck are experienced in handling premises liability claims and swimming pool accidents. If you have been injured at a pool, it is important to seek medical attention and learn your legal rights for compensation. For a free legal consultation, contact our lawyers today at 800-379-1244 or 617-723-7676 or use our contact form.