Homeowners Insurance Tips After Hurricane Sandy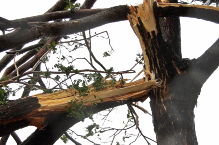 In the aftermath of Hurricane Sandy, many people are assessing damage to their homes, cars and property. Insurance losses across the country are already estimated at $7 billion to $15 billion, while total losses will easily exceed $50 billion. If you are affected, it is important to act promptly. If you made it through the storm with property intact, now is a good time to plan for future hurricanes.
The lawyers at Breakstone, White & Gluck offer these tips:
Contact your insurance company. If you suffered damage, immediately contact your insurance company. Call your agent, or call the company directly. Let them know what damage you suffered, and ask them to send claims forms. If the damage is extensive, you may find it useful to hire a public adjuster to catalog and estimate your damages.
File the claim. Obtain as much supporting information as you can, such as receipts and photographs if you have one. If you did an inventory of your home, that will be useful proof.
Cooperate with the adjusters. A field adjuster will visit your property to assess the damage to your home or your vehicles. Provide any additional information they need.
Understand your insurance policy.Nobody likes reading insurance policies (well, we know a few lawyers who enjoy that, but nobody else), but the policy will spell out the steps you must take during the claims process. Follow those steps to protect your rights in the event of a dispute of the money you are owed. Failure to cooperate or to follow claims procedures may lead to a denial of your claim.
Tree damage may be covered. Standard homeowners insurance policies cover damage if a tree falls on your home or a garage, shed or fence on your property. If it hits a neighbor's property, then their policy or yours may cover it. If it just lands in your yard, it is likely that you will have to bear the entire cost of its removal.
Beware of Short Statute of Limitations. Contract claims in Massachusetts generally have a six-year statute of limitations. But it is likely that your insurance policy has provisions governing disputes that are much shorter, often just months after the insurance company makes its tender of settlement. If there is a dispute, get legal help quickly!
Make Sure You Are Protected for the Next Big Storm
Inventory your property. Filing a claim is easier if you know what you own and have documented it, including writing a list and taking pictures or a video. Keep a back-up copy of everything in a safe place away from the house. For help, the Insurance Information Institute has online software you can find at www.knowyourstuff.org.
Understand your policy. Have your agent or broker explain key provisions, exclusions, and other options. For liability insurance, consider adding an umbrella. For property damage, consider earthquake insurance.
Know your insurance policy's hurricane deductible. Massachusetts is one of 18 states which allows homeowners insurance companies to set a specific deductible for hurricane damage.
Consider flood insurance. Flood-related losses are only covered if you have flood insurance. Standard homeowners and renter policies cover damage from wind and wind-driven rain that enters a home. But damage from water on the ground or seeping into a basement is not covered. This will be the main reason many victims of Hurricane Sandy will not have insurance coverage.
In fact, only about 20 percent of homeowners who should have flood insurance actually have the coverage, according to the Insurance Information Institute. Meanwhile the average residential flood results in $30,000 in damage, according to the National Flood Insurance Program. Consumers can learn more at www.floodsmart.gov.
Car Insurance. If you have a comprehensive auto insurance policy, flood damage to your car should be covered. But motorists carrying only liability coverage will not be covered.
Please explore some of our other articles on insurance basics. The policies you have protect you from claims, cover your property losses, and in many cases pay you for damages caused by others who may be underinsured. Usually it is worth the extra cost to have that peace of mind.
Understanding and Buying Massachusetts Car Accident Insurance
What Every Massachusetts Bicyclist Needs to Know About Car Insurance

The lawyers at Breakstone, White & Gluck of Boston specialize in personal injury and property claims. If you have been injured, contact us today for a free legal consultation at 800-379-1244 or 617-723-7676 or use our contact form.