Pool Safety Starts with Your Pool Fence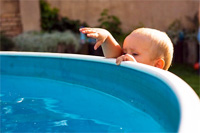 As a pool owner, you have a responsibility to secure your pool with a strong, adequate fence. Many property owners do so because it is the law and to prevent neighborhood children or trespassers from breaking in. But they may have a false security when it comes to friends, families and young children they invite over.
Many pool accidents and drownings actually involve invited guests, people we may know well and have over regularly. Let them enjoy your home, but block unrestricted and unsupervised access to your pool.
The Consumer Product Safety Commission (CPSC) conducted a survey of swimming pool accidents in Arizona, California and Florida. Data showed drowning was the leading cause of accidental death in and around the home for children under age 5. Most of these children – 75 percent – were between 1 and 3 years old.
Fewer than two percent of pool accidents resulted from children trespassing on the property. More often, children knew the pool owner, with 65 percent of accidents occurring in pools owned by an immediate family member. Another 33 percent happened in pools owned by relatives and friends.
More telling is what happened before these accidents:
Most of the children were being supervised by at least one parent when they drowned
Nearly half of the children were last seen in the house before the pool accident occurred
Another 23 percent were last seen on the porch or patio, or in the yard
Some 77 percent of children had been missing for 5 minutes or less when they were found
Adding an extra layer of fencing may make a difference in preventing these accidents.
Pool Fence Recommendations
Self-Closing. A pool fence should be self-closing and self-latching. It should open from the pool side and should be maintained so it can easily latch.
Fence Height. A pool fence should be at least four feet tall and four feet above the grade of the ground outside the fence.
Release Mechanism. You want to prevent children from reaching the latch. When the release mechanism is less than 54 inches above the grade, the release mechanism for the gate should be at least 3 inches below the top of the gate and installed on the side facing the pool. Also, make sure there is no opening greater than ½ inch within 18 inches of the latch release mechanism.
Bottom of the Fence. If your fence stands on a concrete surface, the clearance between the bottom of the fence and the ground should not exceed four inches. For fences on softer surfaces, such as grass, the maximum clearance is two inches.
Fence Spacing. The space between the vertical fence slats should not exceed four inches.
Chain Link Fences. For chain-link fences, the diamond-shaped openings should be no larger than 1 ¾ inches.
Decorative Fences. Fencing with decorative openings should follow the same standard as chain link fences and not exceed 1 ¾ inch.
Backyard Doors. Massachusetts requires pool alarms when doors from a home open into a pool enclosure area. For instance, if there are three sides of fencing around the pool and the home serves as the fourth side.
Pool Alarms. Purchase a pool alarm even if you are not required to by law. Pool drownings happen quickly and often silently. A pool alarm interrupts that process and provides you warning if someone is entering the gate.
Above Ground Pools. For above ground pools, build a fence on top of the structure as a barrier. Remove or lock the pool ladder when not in use. For another layer of protection, you can also add a fencing structure around the ladder and lock that when not in use.
Pool Covers. Consider a power pool safety cover to add another layer of protection. Purchase one which conforms to the specifications in ASTMF 1346-91.
Related:
Safety Barrier Guidelines for Home Pools, Consumer Product Safety Commission
About Breakstone, White & Gluck
Our Boston personal injury lawyers have over 100 years combined experience handling personal injury and premises liability claims, including swimming pool accidents. If you or a family member has been injured, it is important to learn your rights. For a free legal consultation, contact us at 800-379-1244 or 617-723-7676 or use our contact form.