Bicycle Accidents Rare in Boston Hubway Program, Officials Report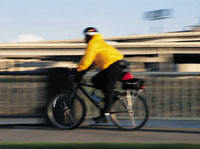 Boston's popular Hubway bike sharing program will expand into Cambridge and Somerville next spring, providing more opportunities for healthy, environmentally-friendly and fun travel.
Boston's program, which began in July 2011, is scheduled to close its 60 bike rental stations and 600 bikes this week for the winter. Bikes are expected to be available again next March, weather permitting. At the same time, Cambridge plans to open 20 stations in areas such as Harvard, Central and Inman squares. Somerville plans to open 8 stations including in Porter, Union and Davis squares.
Brookline is also working on adding two Hubway stations at Coolidge Corner and Brookline Village.
Boston's Hubway program had 3,650 annual members in its first season. The system is partly funded by a $3 million grant from the Federal Transit Administration. It is intended for short trips as an extension of public transit. Annual members who pay $85 per year and those with one-day $5 and three-day $12 memberships can take unlimited rides, but they must return bikes within 30 minutes to avoid incurring additional fees.
Among annual members, the average ride lasted 17 minutes.
As officials close up the Boston program for the winter, they report concerns over an increase in bicycle accidents never materialized. The program saw no serious bike crashes requiring ambulance response and only two bike accidents overall.
But one issue is less than half of Hubway cyclists appeared to wear bike helmets, the program reported. Nearly 75 percent of riders on other bikes wore helmets. The city of Boston has tried to boost bike helmet use by working with 30 bike shops to offer subsidized bike helmets for less than $10.
The Boston bike accident lawyers at Breakstone, White & Gluck urge cyclists to learn Massachusetts bicycle laws. Click here for our guide.
We also urge cyclists to consider purchasing bicycle accident injury protection through their automobile insurance policies. Check your uninsured and underinsured motorist coverage, which provides protection if there is a bicycle accident. This insurance is affordable and can ease the physical and financial recovery after a bicycle accident. Click to read our guide What Every Bicyclist Needs to Know About Car Insurance.
Click here to read an article in The Boston Globe about the Hubway bicycle sharing program.
Click here to learn more about Boston's Hubway sharing program.

The Boston bike accident lawyers at Breakstone, White & Gluck are experienced in representing bicyclists injured in crashes throughout Massachusetts. If you have been injured, it is important to learn your legal rights. For a free legal consultation, contact us today at 800-379-1244 or 617-723-7676. You can also reach us through our contact form.