Attorney David White to Speak at Boston Cycling and Health Expo about Insurance for Cyclists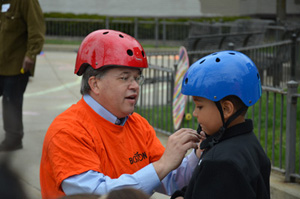 Attorney David W. White of Breakstone, White & Gluck will speak this weekend about how cyclists can purchase accident coverage to protect themselves from injuries and lost wages. White will speak at the Boston Cycling and Health Expo at 12:30 p.m. Saturday at the Westin Boston Waterfront. His talk is free and open to the public.
Cyclists often ride around with small amounts of coverage because they are unaware of how easy and relatively affordable it is to purchase extra coverage through their Massachusetts auto insurance policies. Drivers in Massachusetts are required to carry auto insurance, but they often carry very little and in some cases, none at all. If a cyclist is hit by a driver with inadequate insurance, he or she may be left without the compensation that is needed to fully recover and pay for medical expenses, bills, and the physical injuries.
White will talk about two ways cyclists can protect themselves by:
Purchasing adequate amounts of Underinsured and Uninsured Motorist coverage
Purchasing adequate Medical Payments coverage
Want to learn more before the event? Read our article, What Every Massachusetts Bicyclist Needs to Know About Car Insurance.
White will review the key parts of a Massachusetts auto insurance policy and explain the different options for cyclists to obtain compensation for injuries, including their own health insurance and no fault benefits. He will also discuss medical liens that health insurance companies may place on a personal injury case.
Cyclists who do not own cars may still be able to benefit from coverage if they live in a household with a car.
About Attorney David W. White
White is a Boston personal injury lawyer who has specialized in bicycle accident cases for over 25 years. He is a past president of the Massachusetts Bar Association. He is a frequent lecturer at continuing legal education programs and other events.
About the Boston Cycling and Health Expo and MassBike Bike Night
The Boston Cycling and Health Expo begins Friday and will host vendors from throughout New England who offer cycling, sports equipment and services aimed at healthy living. It starts at 2 p.m. Friday at the Westin Boston Waterfront at 425 Summer Street. It is also open Saturday from 9 a.m. to 5 p.m. Two notable events: MassBike will host its Bike Night and Fashion Show on Friday, starting at 6:30 p.m. Then on Saturday, the expo will start with a group bike ride around the City of Boston.
Breakstone, White & Gluck Booth
Breakstone, White & Gluck will have a booth and we invite you to stop by. Our lawyers and staff will be demonstrating how to use the firm's new Boston cycling app. The smart phone app provides users with safety tips from our lawyers, an easy way to store your health insurance information and tools to gather information at the scene if you are in an accident. We will also be sharing pictures from our work donating youth bike helmets to Boston Bikes, Cycle Kids, Bikes Not Bombs and other organizations this spring. Learn more.