Massachusetts Drivers Not Stopping for School Buses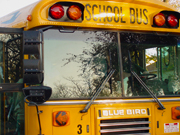 A new pilot program shows drivers in three Massachusetts communities are failing to stop for school buses, a violation of state law and a safety concern as students prepare to head back to school.
The program is underway in Medford, Quincy and Seekonk, where school buses have been equipped with video cameras behind the vehicle's long stop-sign arm. The cameras capture the license plates of cars which violate the law and cause school bus accidents.
In Medford, the cameras captured 112 motor vehicle violations in 105 days, according to The Boston Globe. Some 57 violations were recorded over 55 days in Quincy while Seekonk had 45 violations over 53 days.
Under Massachusetts law, drivers cannot be issued citations based solely on video evidence. A police officer or bus driver must observe the violation and testify to it. Fines start at $250 and drivers with two or more offenses can have their license revoked.
Massachusetts is one of many states that allow traffic cameras, but they are currently only used to catch toll-evading drivers on the Massachusetts Turnpike. Proposed legislation aims to prevent school bus accidents by allowing cities and towns to submit video footage as evidence.
Drivers can keep children safe and avoid motor vehicle citations by paying close attention this September. The Boston personal injury lawyers at Breakstone, White & Gluck offer these safety tips to prevent school bus accidents:
State law requires drivers to stay at least 100 feet behind a school bus at all times.
Drive slowly and watch for children walking in the street, especially in areas with no sidewalks.
Watch for children playing at bus stops.
Yellow flashing lights signal the bus is slowing down to stop.
Red flashing lights and an extended arm indicate the bus is stopped to let children on or off.
Do not start driving again until the stop arm folds back up and the bus starts moving.
Do not attempt to pass a school bus.
Watch for children when backing out of your driveway. If you see children, ask them to move to the sidewalk until you drive away.
Click here for the state law on driving near school buses in Massachusetts.
The Massachusetts motor vehicle accident lawyers at Breakstone, White & Gluck are experienced in handling all types of traffic cases, including school bus accidents, pedestrian accidents and crosswalk accidents. Contact their Boston office today.