Toy Safety Reminders for Holiday Shoppers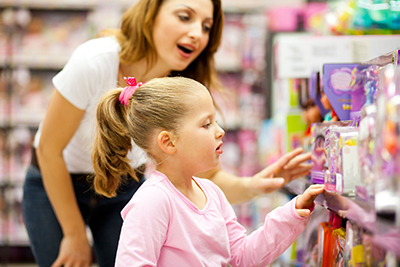 Many of us will shop for a child this holiday season. Do your homework first, so you purchase gifts which are both safe and fun to use.
Each year, children and young adults are seriously injured or killed while playing with dangerous and defective toys. We should be able to trust that the toys we purchase from reputable stores are safe, but that is not always the case. In 2015, there were an estimated 185,500 toy-related, emergency department-treated injuries and 11 deaths to children younger than 15 years old, according to the Consumer Product Safety Commission (CPSC). Riding toys, specifically non-motorized scooters, were associated with the most toy-related injuries.
Before you shop, here are a few tips:
Check out the CPSC recall page. Check the recall page before you shop. You can search for a specific toy, by manufacturer or in several different useful ways.
Read labels. Look for labels with age recommendations and follow them. If you shop online, double check the age recommendation and other labels once you receive the product box. What you see on the computer screen may not be what you actually receive.
Read the Top 10 Worst Toys 0f 2016 list. Take time to read this list and make sure not to buy any toy mentioned on it. Another toy to note: the Tonka 12V Ride-On Dump Truck. It has not been recalled, but Toys R Us has pulled it off shelves after one of the toys caught fire in Bellingham, Washington over the weekend.
No small pieces. Do not buy toys with small pieces for small children under three years old. Consider every part, even things such as small plastic eyes and noses on stuffed animals and dolls which could become loose.
Plastic film. If you purchase toys with mirrors or similar surfaces, remove the protective plastic film before giving the gift to a child. It is a choking hazard.
Avoid magnets. Do not purchase toys or adult gifts with small magnets. If a small child swallows two or more magnets, they attract in the stomach. Surgery may be required to remove the magnets and the child may suffer very serious complications. Thousands of children have these suffered these injuries and required surgeries. At least one child died in recent years, according to news stories.
The CPSC and companies have recalled many of the popular magnet toy sets in recent years, such as Buckyballs toys, and strengthened federal standards. But some are still sold. Steer clear of any product with small magnets. Once they are brought into a house, small pieces can fall under furniture or other areas and stay there for years until they are discovered by a child. They are hard to thoroughly clean up.
Electrical toys. Children should use toys with electrical components under adult supervision and follow age recommendations. Before you buy an electrical toy, check with a child's parents to see if it is appropriate.
Cords and strings. Do not buy toys with long strings for infants and young children. A child can wrap a long string around his or her own neck and strangle themselves.
Batteries. Do not purchase toys which operate with small circle button batteries.
Balloons. Children can suffocate from balloons and the CPSC advises against letting children younger than 8 play with balloons. One risk is a child can swallow a balloon or suck it in while blowing it up. After the balloon pops, a child can also choke on the broken pieces.

About Breakstone, White & Gluck
The Boston personal injury lawyers at Breakstone, White & Gluck have over 100 years combined experience representing those who have been injured by negligence and defective products. If you have been injured, learn your rights. For a free legal consultation, contact us at 800-379-1244 or 617-723-7676 or use our contact form.