Food Poisoning Warning for Fourth of July Cookouts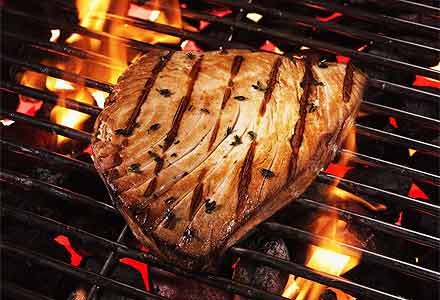 The Fourth of July is for outdoor family barbecues. But enjoying food safely in the warm weather requires planning. Each year, 48 million Americans are sickened by food poisoning – or one in six, according to the Centers for Disease Control. Of these, 180,000 are hospitalized and 3,000 die. The good news is food poisoning is preventable. If you are grilling for family and friends this holiday weekend, follow these few easy guidelines to keep your meal safe:
Wash your hands thoroughly with soap and water before and after handling food. Washing hands afterward is just as important to prevent food poisoning.
Make hand soap accessible indoors. Outdoors, keep hand sanitizer near your food. Encourage everyone cooking and eating to use it.
Limit the amount of time food is left outside, especially mayonnaise-based salads.
Marinate meats and other foods in the refrigerator, never on the counter.
Never reuse sauce used to marinate raw meat, poultry or seafood. If you want to use the sauce in another way, set aside a separate portion before marinating.
Use a food thermometer to make sure food is cooked thoroughly. Refer to the Safe Minimum Temperatures Chart for safe internal temperatures.
Serve food at a safe temperature. Keep hot food at 140 degrees Fahrenheit or above until served. Serve cold food at 40 degrees Fahrenheit.
Make sure to keep plenty of ice and coolers on hand. Maintain one cooler for beverages and one for raw meats, poultry and seafood. Keep a third cooler for cooked foods and raw fruits and vegetables.

The Massachusetts personal injury lawyers at Breakstone, White & Gluck are experienced in handling cases involving food poisoning and foodborne illness. If you believe you have suffered a Massachusetts food poisoning case, it is important to visit a physician as soon as possible. You may also be entitled to compensation if someone caused your injury. For a free legal consultation, contact us today at 617-723-7676 or use our contact form.