Posts Tagged '"foodborne illness"'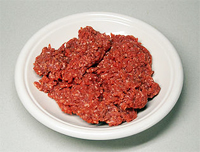 A Northeastern grocery store chain has recalled various packages of ground beef after 14 people have been infected with an antibiotic-resistant strain of Salmonella.
Hannaford, of Scarborough, Maine, issued the voluntary recall Thursday, Dec. 15, for an undetermined amount of fresh ground beef that may be contaminated with Salmonella Typhimurium. This strain of Salmonella is resistant to treatment by many antibiotics, including drug classes such as beta-lactams and aminoglycosides. Seven of the 14 people who suffered food poisoning were hospitalized.
The United States Department of Agriculture (USDA) has classified the recall Class 1 with a high health risk. This classification means there is a reasonable probability that use of a product will cause serious, adverse health consequences or death.
The grocer recalled 10 different types of ground beef, ranging from 73 percent to 90 percent. Hannaford said most of the affected individuals had consumed 85 percent. The affected packages have the sell-by date of Dec. 17, 2011 or earlier. They were sold at Hannaford stores in Massachusetts, Maine, New Hampshire, New York and Vermont. Hannaford is offering consumers a full refund.
The ground beef involved in the food poisoning outbreak was sold under the brand names of Hannaford, Taste of Inspirations and Nature's Place.
The USDA is reminding consumers to check their freezers as well as refrigerators as it continues to investigate.
The USDA said Hannaford kept limited records regarding the source of the ground beef and it is unable to determine the responsible supplier. The government agency said it will pursue rulemaking to address this problem in the future.
Salmonella is one of the most common bacterial foodborne illnesses. It can be life-threatening in individuals with weak immune systems, such as the elderly. Common symptoms include diarrhea, abdominal cramps, fever, headache, chills, nausea and vomiting. The food poisoning symptoms can start within 12 to 72 hours of food consumption and last up to seven days.
Preventing Salmonella
The USDA advises consumers to take special care in handling ground beef to avoid Salmonella.
Wash Your Hands. Consumers are urged to wash their hands with warm, soapy water for at least 20 seconds before and after handling food.
Separate. Keep raw meat, fish and poultry away from other foods that will not be cooked. Use separate cutting boards for different meats and egg products.
Cook Properly. Cook meat to safe internal temperatures. The safe internal temperature for beef and pork is 160 degrees Fahrenheit and 165 degrees for poultry. Use a food thermometer to check.
Refrigerate Immediately. Refrigerate raw meat and poultry within two hours of purchase or one hour if kept in temperatures of 90 degrees or greater.
Click here to read the full USDA notice on the Hannaford Ground Beef Recall.
Read More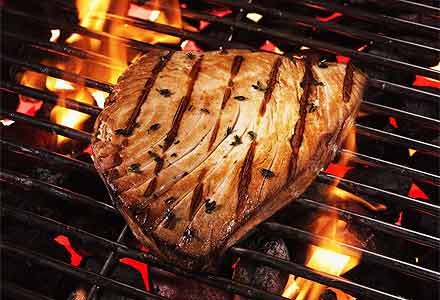 The Fourth of July is for outdoor family barbecues. But enjoying food safely in the warm weather requires planning. Each year, 48 million Americans are sickened by food poisoning – or one in six, according to the Centers for Disease Control. Of these, 180,000 are hospitalized and 3,000 die. The good news is food poisoning is preventable. If you are grilling for family and friends this holiday weekend, follow these few easy guidelines to keep your meal safe:
Wash your hands thoroughly with soap and water before and after handling food. Washing hands afterward is just as important to prevent food poisoning.
Make hand soap accessible indoors. Outdoors, keep hand sanitizer near your food. Encourage everyone cooking and eating to use it.
Limit the amount of time food is left outside, especially mayonnaise-based salads.
Marinate meats and other foods in the refrigerator, never on the counter.
Never reuse sauce used to marinate raw meat, poultry or seafood. If you want to use the sauce in another way, set aside a separate portion before marinating.
Use a food thermometer to make sure food is cooked thoroughly. Refer to the Safe Minimum Temperatures Chart for safe internal temperatures.
Serve food at a safe temperature. Keep hot food at 140 degrees Fahrenheit or above until served. Serve cold food at 40 degrees Fahrenheit.
Make sure to keep plenty of ice and coolers on hand. Maintain one cooler for beverages and one for raw meats, poultry and seafood. Keep a third cooler for cooked foods and raw fruits and vegetables.