Posts Tagged 'sports-related concussions'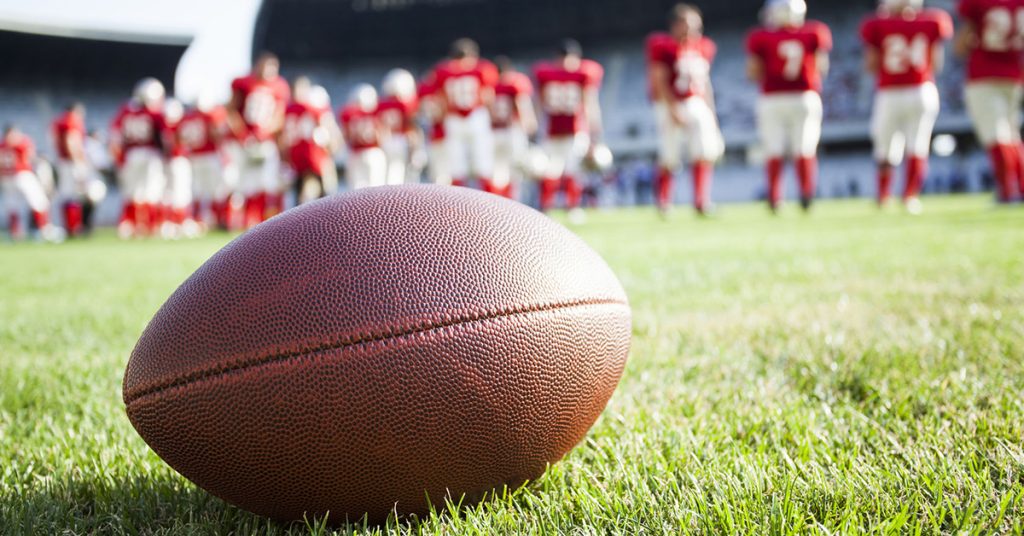 Should students have to wait until they finish 7th grade to play football in Massachusetts? Lawmakers are being asked to consider legislation to delay the start of play to protect players from concussions.
"An Act for No Organized Head Impacts to Schoolchildren," has been filed by State representatives Paul A. Schmid III (D-8th Bristol) and Bradley H. Jones Jr. (R-20th Middlesex). The legislation would ban children in 7th grade or younger from playing or practicing any form of organized tackle football. Schools would be held accountable and face fines for violations:
$2,000 for each violation

$5,000 for subsequent violations

$10,000 when serious physical harm result to participants
Children would be allowed to play flag football or any form of football which does not involve tackle play. The proposal does not include any other sport.
Causes of Concussions
The Centers for Disease Control and Prevention (CDC) define a traumatic brain injury (TBI) as a disruption to the brain caused by a blow or jolt to the head. Concussions are considered a mild TBI, which can result in a brief change of mental alertness or consciousness. A severe TBI can result in a longer period of unconsciousness or mental change.
Symptoms may not be immediately evident after a concussion, especially if the person or those around them are not familiar with the symptoms, which can include an inability to think clearly, memory problems, feeling dazed and mood, behavior or personality changes. Headaches, nausea and vomiting can also set in.
Beyond the sports field, falls are the leading cause of concussions, according to the CDC. Adults over age 65 and children under 14 are most likely to suffer a fall leading to a head injury. Car crashes are the third leading cause of concussions, followed by being struck in the head by an unspecified object, such as in a construction site accident or by violence.
Concussions can also happen on the sports field. Not every contact necessarily results in a concussion, but to identify injuries, Massachusetts and other states have already passed concussion education and training laws. Known as "return to play" laws, these require high school and middle school students to be examined by a medical professional before they can participate in sports again.
Research on Concussions and the Impact on Younger Football Players
New research shows there is a measurable impact when younger children play football. In a study of 26 football players – all age 12 – Wake Forest researchers found changes in the corpus callosum, which joins the two sides of the brain and integrates cognitive, motor and sensory functions. The players underwent MRIs to examine the changes prior to the three-month season and three months after the season concluded. They were compared to 22 other students who did not participate in contact sports.
Players who suffer a concussion need proper rest and treatment so they can properly heal and to reduce the chance for another injury. Researchers have documented this risk; one study found high school and college students who sustained concussions were four to six times more likely to suffer a second injury (Source: McGill University in Montreal).
Concussion Legislation Filed in Other States
Massachusetts isn't taking the field alone on concussions. At least five other states are also debating tackle football bans for children under age 12. These states include Illinois, California, Maryland, New York and New Jersey, according to Boston.com. But none of the proposals are on track to reach state governors.
All 50 states already have "return to play" laws aimed at reducing youth sports-related concussions, according to the National Conference of State Legislatures. Washington state was the first to pass such a law in 2009. By 2015, every other state had enacted a similar law.
In most states, these laws mandate concussion awareness training and education to prevent concussions among student athletes. According to Shape America, 48 states require students suspected of having concussions to sit out at least 24 hours. 
Arizona and South Carolina allow students back on the field the same day with a doctor's approval.
Passed in July 2010, the Massachusetts concussion law requires parents, volunteers, coaches and school nurses to receive specialized concussion awareness training. This is to help them recognize concussion symptoms and help students receive treatment as soon as possible.
As in other states, the Massachusetts law requires medical clearance before students can return to sports. Schools are then required to maintain detailed record-keeping related to a student's injury and progress in the classroom and on the field. The law is M.G.L. ch.111 §222. The Code of Massachusetts Regulations is 105 CMR 201.000.
All middle and high schools which offer sports through the Massachusetts Interscholastic Athletic Association (MIAA) must follow the concussion safety law.