Posts Tagged '"Massachusetts bus accident lawyers"'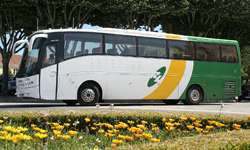 A series of recent tour bus accidents has raised public concern about which motor coach companies can be trusted on the roadways. Each year, 750 million passengers board motor coach buses in the United States for school trips, recreational excursions and commuting to work. The advantage is the low-cost fare, but many passengers are now worrying about safety.
Dangerous Bus Accidents
On March 12, 15 passengers were killed in a bus crash on Interstate 95 in New York. The bus, operated by World Wide Tours, was transporting a group back from a Connecticut casino. The National Transportation Safety Board (NTSB) is still investigating, but says the driver was speeding.
Two survivors have filed personal injury lawsuits against the bus company, claiming negligence. One lawsuit was filed for $20 million in damages, while the other seeks $200 million.
The fatal bus accident was followed by three other bus accidents resulting in serious personal injuries and wrongful death. Just two days later, a tour bus crashed on the New Jersey Turnpike, killing the driver and one passenger. The Federal Motor Carrier Safety Administration is no longer allowing the company involved, Super Luxury Tours, Inc., to operate.
A week later, a bus carrying Korean tourists from Quebec to Boston crashed in New Hampshire, injuring passengers.
A fatal Massachusetts bus accident occurred over the weekend on Rte. 2 in Shirley when two men tumbled out of a bus window. A 31-year-old man died and a second man suffered serious personal injuries. The bus, owned by Colonial Tours of Boston, had been transporting a group back from touring Red Hook Brewery in New Hampshire.
In January, another bus accident in Connecticut killed a 17-year-old student when it crashed into a guardrail on Interstate 84. The bus had been transporting students to a robotics competition.
The NTSB has launched a six-month investigation into the tour bus industry and may then propose legislation. It plans to look at equipment upgrades and driver training. The NTSB said 60 percent of fatal bus crashes over a 12-year period were caused by driver error.
How Passengers Can Protect Themselves
In the meantime, passengers can protect themselves by researching the bus companies they use for travel. You can search a bus company's safety rating and accident history on an online database operated by the Federal Motor Carrier Safety Administration.
Click here to access the database. Type in the name of the bus company you are researching.
While there is a lot of important data there, you will find two notable charts at the bottom of the page. The first chart tells you how many bus crashes the company has had in the past two years, including injuries and fatalities. The second chart shows you the Carrier Safety Rating, which will be listed as Satisfactory, Conditional or Unsatisfactory.
Finally, another way to check on a bus company is to use the Internet. Go to the website of the local or city newspaper and search their archives. If there was a major bus accident, you can expect the newspaper reported it.
Read More