Posts Tagged 'magnet toys'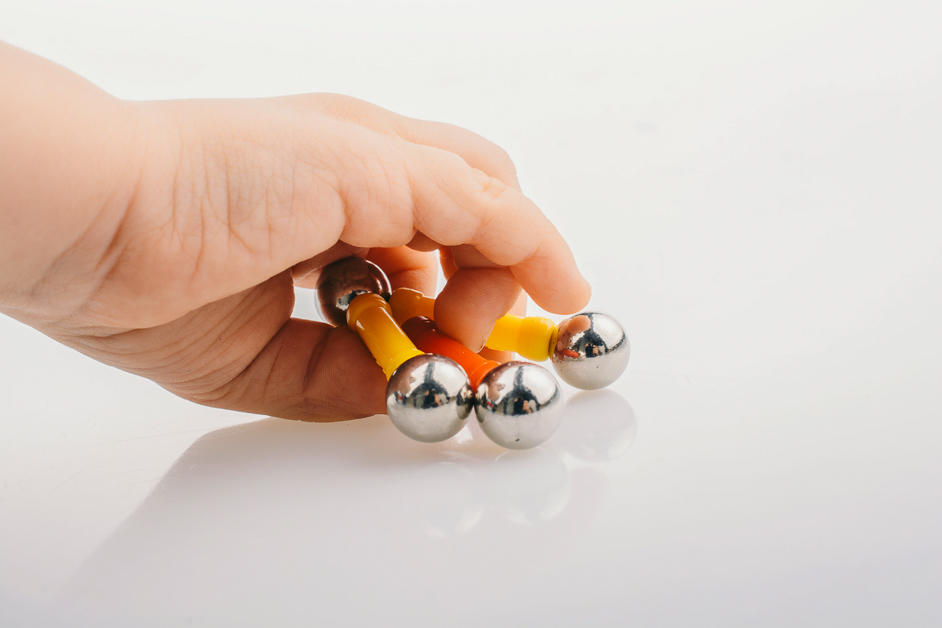 We urge parents to keep magnet toys off your holiday shopping list for young children. High-powered "rare-earth" desk magnet toys are highly dangerous and there are many painful stories of children ingesting them, then fighting for their lives in surgery. But there are also other types of magnet toys, including magnet tile building sets and magnet construction toys. While these are very popular, this doesn't mean they are safe for your family. Take time to do your research, read age recommendations and really consider your children's needs.
Magnet Desk Toys or Cluster Magnet Toys
Read by product type:
Magnet Desk Toys or Cluster Magnet Toys
Tile Magnet Toys
Magnetic Construction Sets
Final Word on Safety
Magnet Desk Toys or Cluster Magnet Toys
The Consumer Product Safety Commission (CPSC) has worked to take desktop magnet toys off the market to prevent injuries to children. The problem is the average set has 125 or 216 strong magnet balls, though some have more than 1,000 pieces. The magnets are tiny and are extremely high-powered.
These magnet sets come apart and can be reassembled into unique shapes. In a child's hands, the magnet clusters may become a necklace, triangle or whatever formation they imagine. When magnets are put in a child's mouth, they can attract to each other, causing serious injuries in the digestive system as well as blood poisoning. Children usually require surgery for the intense pain.
New Magnet Safety Standard. Prior to 2014, "rare-earth" magnet sets were required to carry age recommendation labeling of 14 and older. In 2014, the CPSC established a federal toy safety standard which required magnets to be large enough to exceed the CPSC's "small part" standard for toys or that magnetic parts have a force of attraction of 50 kG² mm² or less, according to the CPSC's Final Rule: Safety Standards for Magnet Sets. The CPSC safety standard effectively made it illegal to sell "rare-earth" magnet sets in the U.S. and there was a positive response, an 80 percent reduction in magnet-ingested injuries, according to The Journal of Pediatrics.
You may guess young children are at the highest risk. But children age 4 through 12 suffered the most injuries in the CPSC's analysis of ER visits over 5 years, from 2009 to 2013. According to the Federal Register dated October 3, 2014, the agency concluded an estimated 2,900 children had suffered magnet ingestion injuries. Children age 4 through 12 suffered 1,900 injuries – or 65 percent.
Tile Magnet Toys
For all this work, in 2016, the 10th Circuit of Appeals ruled the CPSC's pre-requisite factual findings were "incomplete and inadequately explained." The Court vacated the safety standard and remanded it back to the CPSC for further proceedings.
The lawsuit had been filed by Zen Magnets, one of the "rare-earth" magnet makers. The company is now selling its products again, under the Buckyballs and Mandala names, according to Tech Crunch. Again, we stress, please don't buy these toys, especially if you have children or a pet. The parts are small and scatter easily. If you don't find our blog compelling, we encourage you to read this article in STAT, called "Toy magnets are harming kids again. They need to be banned – for good," August 6, 2019.
Tile Magnet Toys
These are magnets encased in plastic triangle and square shapes. These are popular, marketed as toys that help stimulate learning and imagination. Some of these are designed for children under age 3, some for children ages 3 and up; others are for age 6 and up. If you do purchase one of these sets, carefully check the age recommendation and secure it in a container out of reach of children.
There has been at least one case of the encasements opening and a child swallowing magnets. Last December, a Wisconsin mother shared her frightening story on social media and the Today Show reported on it. The woman's 4-year-old son had swallowed 13 magnets from one of the tile magnet kits. After he began vomiting, she rushed him to a local hospital where surgeons had to remove part of his colon, intestine and appendix. The product manufacturer was not identified in the story.
The CPSC regularly issues recalls about toys containing small magnet parts. One of the largest recalls involving tile magnet building toys came in 2006, when Mega Brands America, Inc. recalled 4 million Magnetix Magnetic Building Sets. The recall was first announced on March 31, 2006 and re-issued and expanded in April 2007. The CPSC reported one child had died and one child had suffered aspiration. 27 others had suffered intestinal injuries, according to the CPSC news release.
The tragedy could have claimed even more lives; there had been 1,500 reports of magnets coming apart. Although the Magnetix Magnetic Building Sets were labeled age 6 and older, at least 10 injuries involved older children, up to age 11.
Magnetic Construction Sets
According to CBS News, in October of 2006, Mega Brands America settled a lawsuit with 15 victims for $13.5 million. 
In 2009, consumers learned there was further wrongdoing in this case. On April 14, the CPSC announced that Mega Brands America, Inc. had agreed to pay a $1.1 million civil penalty to settle allegations that the company (and Rose Art Industries, which it had acquired) had failed to provide timely information about product dangers to children. 
Magnetic Construction Sets
These sets include plastic rods and balls which can be snapped together with the magnet attraction.
Final Word on Safety
One problem is Consumer Reports found a full range of age recommendations across several popular products – and manufacturers unwilling to answer questions. Since age recommendations are the most fundamental tool consumers have, we recommend steering clear of these. 
Final Word on Safety 
The CPCS is responsible for overseeing product recalls and a quick search of its database can glean valuable information for parents. Visit www.cpsc.gov and search by product name or type of products. You can also visit the CPSC's magnet information center.
With magnet toys, product regulations and age recommendations continue to change. They are very challenging to bring into any home safely, but especially homes with children of various ages and development skills and pets. In the end, you must make your own decision, but we urge you to be overly cautious and purchase other toys. There are so many other toys out there which can provide your child with a safe and enjoyable experience. 
Breakstone, White & Gluck – Boston Toy Safety Lawyers
Breakstone, White & Gluck is a Boston law firm specializing in personal injury, medical malpractice and product liability. We wish Massachusetts families a safe and healthy holiday season and share our toy safety tips as part of our Project KidSafe campaign.
If you have been injured, contact Breakstone, White & Gluck to learn your legal rights at 800-379- or 617-723-7676. You can also use our contact form.