Posts Tagged 'Legal responsibilities for swimming pools'
Over the past year, many of us have missed out on seeing friends and loved ones. If you are planning a summer gathering to make up for lost time, we urge you to consider water safety, especially if you own a backyard swimming pool.
With Massachusetts schools about to start summer break, there is a high level of distraction in many homes. Households may have family members working remotely and summer may add to the unpredictable schedules we established during the COVID-19 emergency. But you must be vigilant if you own a pool because the risk for injury is very real. One can drown quickly, in a matter of seconds, and those injured are often young children.
According to the Consumer Product Safety Commission (CPSC), an average of 397 children were killed in swimming pool or spa submersions each year from 2016 to 2018. These children were all under 15 years old. During the same period, there was also an annual average of 6,200 children under 15 treated at hospitals for non-fatal injuries associated with pool or spa submersions.
Already in Massachusetts this year, we have seen several lives lost or nearly lost to drownings in swimming pools, ponds and lakes. In this blog, we focus on how homeowners can reduce the risk for injury and drowning in backyard swimming pools, and their legal responsibilities.
Massachusetts Property Owners Have a Duty to Use Reasonable Care
In Massachusetts, homeowners have a responsibility to use reasonable care to keep their property in reasonably safe condition. When it comes to swimming pools, a property owner's duty starts with following Massachusetts building regulations to secure pools. They must also maintain safe areas around pools.
It is paramount that Massachusetts homeowners also exercise caution with alcohol. Homeowners can reduce the risk for many drownings and injuries by simply limiting their own alcohol consumption and that of all their guests of legal drinking age. Minors should never be allowed to consume alcohol or a homeowner can face criminal charges and a civil lawsuit if someone is injured.
Secure Your Swimming Pool With Strong Fencing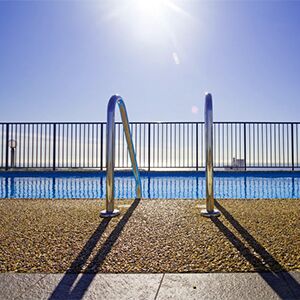 In Massachusetts, the state building code requires property owners to secure swimming pools behind 4-foot high fencing. There are different specifications for above-ground and underground pools, along with pools that use one side of the home as part of the fence.
Pools must be secured with locking devices that face outward away from the pool. The locks must be self-closing and self-latching.
Keep Pool Areas Free From Hazards
Be aware of other potential hazards beyond your actual pool. Your pool area may have outdoor furniture, rafts and floats, a diving board or a slide. One way to prevent a pool-related injury is to limit pool accessories. Secure the products you buy out of sight when you are not using your pool.
We caution you about purchasing diving boards and slides. Accidents involving these products can be serious, resulting in a head injury or a spinal cord injury, which can lead to long-term disability or death. Many homeowners have decided these are just not worth the potential safety risk.
Recognize that these products can be poorly designed or incorrectly installed. A product may not be the right fit for your pool design or reliably support your guests, even if it meets CPSC safety standards. However, if you choose to make a purchase, you should always hire an experienced pool professional to assist you with installation and your homeowner's insurance agent to make sure your policy provides coverage.
Protect Young Children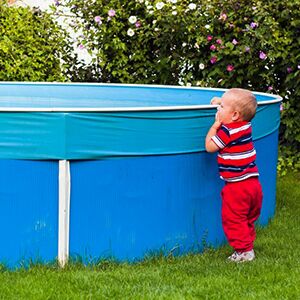 In Massachusetts, property owners are responsible for securing pools from young children. Property owners can be held liable for drowning or other injuries suffered by young children, whether they are invited guests or are trespassing. The law recognizes that young children may not understand when they approach a potential hazard. As a property owner, think about how your pool looks from the street, from your yard and from inside your home. Bright-colored rafts and large crowds can quickly capture a child's attention. Then think about how you have secured your pool.
Keep Gatherings Small
When you invite guests over, keep gatherings small so you can observe the pool area and enjoy the company.
Closely Monitor Guests Near Your Swimming Pool
Never invite anyone over to your home to use your swimming pool when you are not there or are engaged in another activity, such as work. Ask if adult guests know how to swim and if children have attended swimming lessons.
If you have young children, commit to watch them and any friends they invite over closely, even if they are not using your pool. Limit the size of gatherings so you can give the children your full attention.
Make the same commitment to safety if you are the parent of a teenager, even if you normally give them more freedom. Set summer rules and make sure your teen understands: they can only have friends over when you are home and gatherings should be kept small. They should always ask before using the swimming pool and you will not permit alcohol.
Whenever you have any guests over, check that your pool is fully secured before they arrive. Not just from outside, but also from guests and children in your home and backyard. Once your guests arrive, it can help to utilize a pool camera, sounding alarm or other technology, even if no one is using the pool. You can also take the low-tech approach of sitting outside where you can see both the pool and the gate. This step shows your guests and children you are truly committed to safety and want them to have fun, but also act responsibly so everyone gets home safely.
Restrict Alcohol Consumption by Your Guests; Never Allow Teens to Drink At Your Home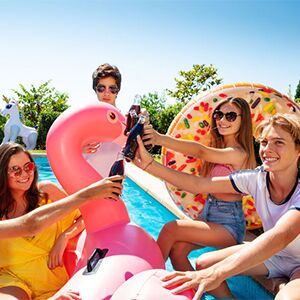 Carefully consider whether you want to allow your guests to consume alcohol in your home, especially when they come over to swim or are driving. This decision comes with a lot of responsibility. The easiest approach is to not allow alcohol consumption. If you do allow your guests to drink, practice moderation and good judgment. Never let them drive home under the influence.
As for swimming, remember that alcohol and pools are a dangerous combination. According to the Centers for Disease Control and Prevention, alcohol use is involved in up to 70 percent of deaths associated with all water recreation. Drinking beer or liquor in the warm weather can contribute to dehydration, which can raise the risk for drowning and submersion injuries.
Massachusetts recognizes social host liability. There can be serious consequences for bad decisions. Homeowners can face criminal charges, including jail time, if they allow minors under 21 to consume alcohol at their home or any property they control, under M.G.L. c. 138 § 34 . Parents can also be criminally charged and convicted if police can prove they left their home and were aware minors were consuming alcohol there in their absence. Minors can also be criminally charged.
In addition to criminal charges, a homeowner can also face a civil lawsuit from those injured as a result of a minor's alcohol consumption at their home.
Limit Cell Phone Use and Distractions
One can easily become distracted by an email, text or social media and this can be dangerous if you have a pool. If you are checking your cell phone, you could miss the moment someone needs your help. Every second counts when it comes to saving someone from drowning. The best approach is to limit cell phone use and enjoy your guests. Keep both your home and cell phone nearby, but for emergencies only.
Free Legal Consultation – Boston Personal Injury Attorneys
At Breakstone, White & Gluck, our attorneys provide aggressive representation and are committed to achieving the best result for clients. Founded in 1992, our personal injury law firm specializes in representing those injured by the negligence or wrongdoing of others and our attorneys have been consistently recognized by Super Lawyers and Best Lawyers in America. We have won numerous record-setting verdicts and settlements in negligence, product liability and medical malpractice cases in Massachusetts. We offer safety tips as part of our Project KidSafe campaign, through which we work to prevent injuries to children and families.
If you or a family member has been injured, learn your legal rights. We represent clients across Massachusetts, including in Boston, Cambridge, Somerville, Quincy, the North and South Shores, Cape Cod, Worcester and Central Massachusetts. For a free legal consultation, contact one of our Boston personal injury lawyers at 800-379-1244 or 617-723-7676 or use our contact form.