Posts Tagged '"defective children's products"'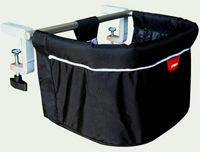 The U.S. Consumer Product Safety Commission (CPSC) is urging parents to stop using a clip-on table top chair for children that poses a threat of detaching and causing serious injuries.
The CPSC reports it is aware of numerous incidents involving the "metoo" chairs imported by phil&teds USA Inc. of Fort Collins, Colorado. Children have suffered impact and head injuries when the chair detaches from the table and causes them to fall with it. Tens of thousands of chairs may have been distributed since May 2006 through Amazon, Buy Buy Baby, Target, Toys R Us and other merchants.
The company has refused to agree to a national product recall that is acceptable to the CPSC. The company has offered a repair kit for the defective products, but it is not approved by the CPSC.
The defective children's products consist of a nylon fabric seat and a metal frame that clamps to tables using two metal vise clamps. The upper part of each clamp rests on the table top and has either a rubber clamp pad on its underside or a rubber boot covering it.
The CPSC reports the chair's clamps can detach from a variety of table surfaces and when children move around or push their feet against other objects.
Another CPSC concern is the lack of plastic spacers between the horizontal metal bar and the clamps. If one side of the chair detaches, there is a risk for pinching and cutting children's fingers or causing possible amputation if fingers are caught between the defective chair and a table.
The CPSC states that the defective products have no product warning about the lack of plastic spacers. Some chair models have the spacers and are under evaluation by the CPSC.
Finally, the CPSC is concerned about misleading product packaging and instructions. The agency said the packaging actually shows the chair being used in a way that may lead to detachment from a table, but there is no instruction warning against this use.
Read More