Massachusetts Workers Rally for Safety and to Commemorate Fallen Workers
Massachusetts workplace accidents and the lives they claim were the focus today at the Workers' Memorial Day Commemoration and Rally at the Massachusetts State House. The event honored the 62 workers killed on the job in Massachusetts last year. Organizers called for workplace safety improvements to prevent more injuries and deaths.
The names of the victims of workplace accidents were read aloud at the beginning of the rally, and a moment of silence honored the men and women, as well as their families.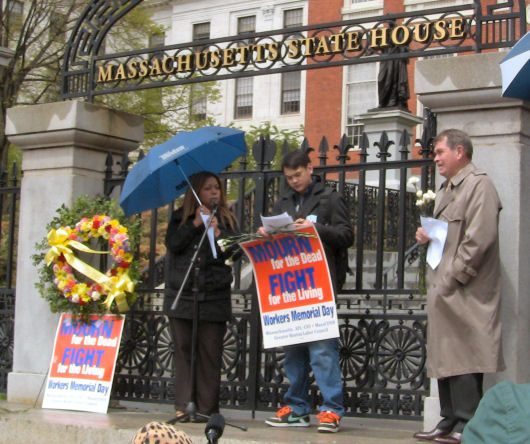 In a report on Massachusetts workplace accidents released today, the Massachusetts Coalition for the Occupational Safety and Health (MassCOSH) said for every worker killed on the job, 10 more die from occupational disease. Massachusetts workplace accidents resulting in death in 2009 included:
6 servicemen and women who died as a result of the war in Iraq
9 construction accident deaths
7 fishing accident deaths
11 deaths among Massachusetts firefighters
11 transportation accident deaths
6 workplace violence deaths
MassCOSH, which co-sponsored today's rally with the Massachusetts AFL-CIO and the Greater Boston Labor Council, estimated 1,800 Massachusetts workers were diagnosed with cancers caused by workplace exposures last year. Another 50,000 Massachusetts workers reported serious personal injuries.
There are currently several efforts to prevent Massachusetts workplace accidents. Last Workers' Memorial Day, Governor Deval Patrick issued an executive order establishing health and safety committees in all state agencies. But MassCOSH said a glaring problem that still must be changed is that Massachusetts' public sector employees are not covered under the federal Occupational Safety and Health Act (OSHA) like private sector workers.
Among other recommendations, MassCOSH calls on the state to be more proactive and to protect temporary workers by passing the Employment Agency Bill (Senate Bill 2364). This bill will require employment agencies to provide written notice about key details of job assignments, the work site employer, the type of work to be done, the right to workers' compensation and other important information. We believe this bill is especially important in light of this economic time.
MassCOSH's complete report is titled, "Dying for Work in Massachusetts: Loss of Life and Limb in Masachusetts Workplaces." It is available from MassCOSH.
Boston attorney David White (below) attended the rally on behalf of the firm.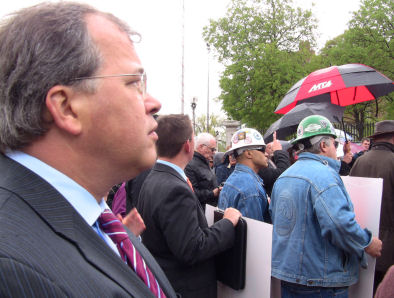 Breakstone, White & Gluck, a Massachusetts workplace accident law firm, supports MassCOSH and its work to improve Massachusetts workplace safety, inspections and enforcement.