Consumer Safety Alert: 1.8 Million Plastic Toys Recalled from Family Dollar Stores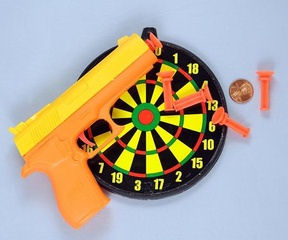 The U.S. Consumer Product Safety Commission (CPSC) has announced the voluntary recall of 1.8 million toy dart gun sets sold at Family Dollar Stores after they were involved in the asphyxiation deaths of two young boys.
The CPSC issued the recall in cooperation with the Charlotte, North Carolina discount store. The importer, Henry Gordy International, Inc., of Plainfield, N.J. refused to recall the soft, plastic toy, which poses a risk if a child places it in his mouth. The defective toy can be inhaled into the throat and prevent a child from breathing. The toy was sold exclusively through Family Dollar Stores from September 2005 through January 2009 for about $1.50.
"Parents should take these toys out of their child's hands immediately," said Massachusetts personal injury attorney David W. White of Breakstone, White & Gluck in Boston. "Given the size of this recall, you really want to take a minute to look through your toy bin if you do any shopping at the Family Dollar Stores."
A 9-year-old boy in Chicago, Illinois and a 10-year-old boy in Milwaukee, Wisconsin suffered asphyxiation deaths while playing with the toy, which was manufactured in China. No Massachusetts consumer safety problems have been announced.
Consumers should discard the toys or return them to a Family Dollar store for a full refund. For additional information, contact Family Dollar at (800) 547-0359 between 8 a.m. and 5 p.m. ET Monday through Friday, or visit the firm's website at www.familydollar.com.
For more information, read the U.S. Consumer Product Safety Commission's recall. announcement.
If you have a consumer safety or product liability case that results in serious personal injury, please contact the Boston personal injury lawyers at Breakstone, White & Gluck today at 1-800-379-1244.