Posts Tagged '"Consumer Safety Alert"'
UPDATE
Jonathan's Sprouts of Rochester, MA, has widened the recall of its sprout products due to Salmonella contamination. The recall now includes all sell-by dates, including its conventional, organic, and bulk products. The recall includes other sprouts, such as radish, dill, and gourmet mix. Check below for stores where these products were sold. Do not eat them! Return them to the store for a refund.
More information: FDA Recall Press Release.
ORIGINAL POST
The USDA has found Salmonella, a dangerous bacteria related to food poisoning, in Jonathan's Alfalfa Sprouts products.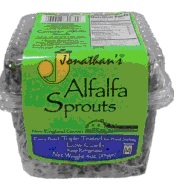 Salmonella, if ingested, can cause serious and sometimes fatal illness and infections in young children, frail or elderly people, and others with weakened immune systems. The symptoms of Salmonella include fever, diarrhea (possibly bloody), nausea, vomiting, and abdominal pain.
Jonathans Sprouts has issued an immediate recall of the following effected products:
Jonathan's 4oz Alfalfa Sprouts
Jonathan's 4oz Alfalfa with Radish Sprouts
Jonathan's 4oz Gourmet Sprouts
Jonathan's 4oz Alfalfa with Dill Sprouts
Jonathan's 8oz Alfalfa Sprouts
Only these products with a sell-by date of 4/23/11 are affected by the recall.  If you have purchased any of these
defective products
, you are urged to return them to the place of purchase for a full refund.
The recall affects the following stores in Massachusetts: A&P, Grand Union, Stop & Shop, Shaws, Hannaford, Donnelans, Foodmaster, Truccis, and Roche Brothers.