Breakstone, White & Gluck Donates 100 Children's Bicycle Helmets to Randolph Police
Breakstone, White & Gluck recently teamed up with the Randolph Police Department to help children ride their bikes safely and prevent serious head injuries.
We were pleased to donate 100 bicycle helmets to Randolph Police in August. Officers distributed the helmets to children who needed one at the Back to School Jamboree. The event was hosted by Randolph Public Schools and was held at the Randolph Community Middle School.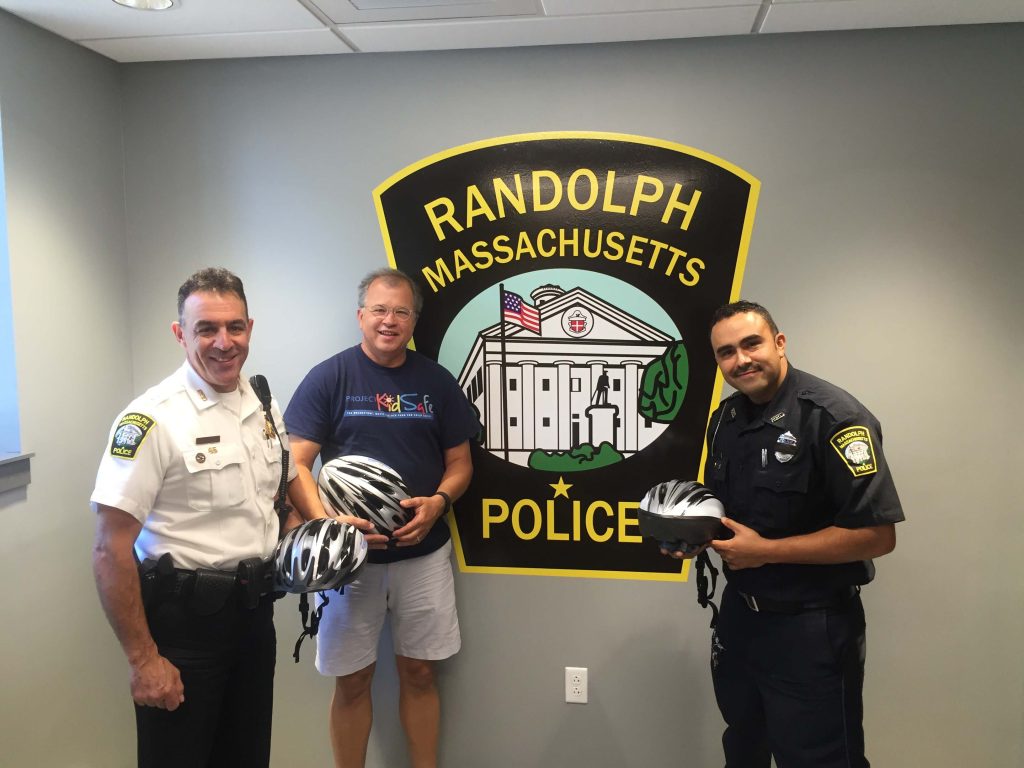 Photo: Attorney David White delivered bicycle helmets from our Project KidSafe campaign to Randolph Police Commander John Hamelburg and Officer Miguel Cruz.

As part of this event, Randolph Police Officer Kevin Donnelly and Sergeant Jeffrey Chaplin showed children and parents how to properly fit the helmets and answered questions. The community showed it cares about bicycle safety; Randolph Police gave away all their helmets on that one day!
Project KidSafe
Breakstone, White & Gluck donated the bicycle helmets as part of our Project KidSafe campaign, which has donated over 10,000 bicycle helmets since 2013. Our goal is to protect children from serious head injuries in a bicycle accident or fall.
We want children (and all cyclists) to wear a bicycle helmet every time they ride. Helmets are required for cyclists under 17 years old in Massachusetts. When children ride without helmets, they are at risk for a concussion or a serious head injury which can even lead to death. Consumer Reports recently called bicycle helmets "one of the smartest purchases you can make." We agree!
Studies have shown the risks:
According to a study by the Insurance Institute for Highway Safety, 60 percent of the people who died in a

bicycle accident

were not wearing helmets in 2014.

A 2016 study published by BMC Emergency Medicine reported that more than 286,000 people suffered bike-related head injuries from 2007 to 2011, more than in other sports, including football, which gets most of the attention.
Bicycle helmets are an important topic as children head Back to School. Children ride their bikes to school in many communities, in Massachusetts and across the country. Parents, please check to make sure helmets properly fit and are still in good condition. A helmet does not last forever; they must be replaced with wear and tear and as children grow.
About Breakstone, White & Gluck
Breakstone, White & Gluck is a Boston personal injury law firm which is committed to the safety of all bicyclists in Massachusetts. We have over 100 years combined experience representing bicyclists injured by the negligence of others. If you, or a member of your family, has been injured in a bicycle incident, please feel free to contact us for a free legal consultation at 800-379-1244 or 617-723-7676 or use our contact form. Thank you and RIDE SAFE!