Massachusetts Bicyclists Can Protect Themselves With Car Insurance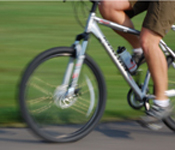 If you're a bicyclist, you know safety's first. Knowing the rules of the road and riding defensively are the best ways to protect yourself from harm. But you must also think finances in case of personal injury. Between lost wages and medical costs, the bills can add up fast. Even if a motorist's involved, their car insurance may not cover all your expenses.
There's good news. You can protect yourself financially in a bike accident with a few changes to your own car insurance. The two smartest things a cyclist can do are:
Purchase adequate amounts of Underinsured and Uninsured Motorist coverage
Purchase adequate Medical Payments coverage
These coverages are affordable. In fact, you can access up to $100,000 of Medical Payments coverage for just $71! Read on as Boston personal injury lawyer David White shares his advice to cyclists for keeping safe and protecting their wallets.
Click here for full article.
Breakstone, White & Gluck is a Boston personal injury and medical malpractice law firm that has successfully represented hundreds of victims of motor vehicle accidents, many involving injured bicyclists. We are committed to promoting safety for bicyclists and support many Massachusetts bicycle clubs.
If you are injured in a collision, please contact us at (617) 723-7676 to speak to an experienced Boston personal injury attorney today.