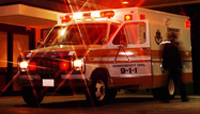 A Boston paramedic believed to have been tampering with painkillers may have exposed 57 people to blood-borne illnesses in 2011. The city began notifying the potential victims this weekend, the Boston Globe reported.
The paramedic was relieved from his duties at Boston Emergency Medical Services on Sept. 6, 2011, when the alleged tampering with vials of both painkillers and sedatives was discovered. A total of 64 patients may have been exposed, but seven died after being transported to local hospitals. Their deaths are not believed to be have been related to the alleged medical negligence and drug tampering.
The city will follow up with letters to the potential victims and offers for free medical tests to determine if they were exposed to any infectious diseases. The drugs were allegedly tampered with during a six-week period in the summer of 2011.
The city continues to investigate the paramedic's alleged actions. At this point, city officials say they do not know how the individual may have tampered with the medications, which are in a liquid form and injected. No criminal charges have been filed against the paramedic.
The news follows another case of alleged medical malpractice involving drug abuse by a medical professional in New Hampshire. In July, a medical technician named David Kwiatkowski was arrested. Kwiatkowski has been infected with hepatitis C since at least 2010 and is accused of exposing 30 patients, some at Exeter Hospital in New Hampshire, with the illness.
Related: