Posts Tagged 'malpractice'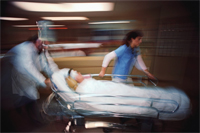 Three Massachusetts hospitals have been cited in the past six months for sending away patients from their emergency rooms without treatment. One case resulted in the wrongful death of a patient during transport to another hospital.
The hospitals are Charlton Memorial Hospital in Fall River, St. Vincent Hospital in Worcester and Lahey Clinic in Burlington, according to a Boston Globe article. The three hospitals were investigated by state officials and the Centers for Medicare & Medicaid Services, which reported to the facilities they would not lose their Medicare contracts because they had taken corrective action to prevent future cases of ER malpractice. The cases have been referred to the Office of the Inspector General to determine whether the facilities will be fined.
Federal law passed in 1986 guarantees every patient who needs emergency medical care receive it, regardless of citizenship, legal status or ability to pay. Hospitals are required to provide patients a medical screening exam and stabilize any emergency medical conditions. There were 11 violations in New England last year, 13 in 2010 and seven in 2009. Hospitals can lose their Medicare contracts and face fines for repeated violations of medical malpractice.
Charleton Memorial Hospital
In the Charlton Memorial Hospital case, a patient who had been diagnosed with a serious lung disease as a child arrived at the emergency room on Aug. 9 at 7:30 p.m. The patient spent several hours in the ER before a physician cleared him to travel to another hospital. But the patient deteriorated after another doctor began his shift about 10:30 p.m. and hospital officials say the second doctor allowed the patient to be transported, despite the ambulance crew's concerns. Following the patient's wrongful death, Charleton Memorial Hospital mandated that doctors and nurses reassess all patients before transfer.
St. Vincent Hospital
At St. Vincent Hospital, a patient arrived at the ER on Oct. 16 shortly before 8:30 p.m. He reported symptoms of a fever and pain from an abscess on the right buttock. The evaluating physician concluded the patient was in poor condition and needed emergency surgery to remove dead tissue. But, according to state investigators, the hospital failed to provide a surgeon. A surgeon on call would not come in that evening and the patient was transported to nearby UMass Memorial Medical Center so he could receive the surgery. The Globe was unable to obtain the patient's treatment outcome following the medical malpractice.
Lahey Clinic
At Lahey Clinic, a doctor and nurse were placed on 30 days of unpaid leave after an incident at the hospital's Peabody location on Nov. 19. A patient walked in and was told he was banned from the hospital as well as its Burlington emergency room.
The patient was escorted from the hospital in a wheelchair by a security guard. The patient went to another hospital for treatment and officials there contacted Lahey. Hospital officials apologized and he was later admitted to Lahey's Burlington facility.
In addition to placing a doctor and a nurse on administrative leave, Lahey required them to undergo re-training in emergency care laws. All doctors and nurses will also undergo annual education on the regulations.
Related:
Massachusetts Cites 3 Hospitals for Denial of Care, The Boston Globe
The Importance of Getting Your Medical Records